Injuries were reported after a two-vehicle traffic collision in Valley Springs on Tuesday afternoon, December 29.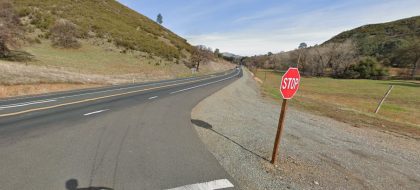 According to the local authorities' initial reports, the collision took place on Highway 12 and Lime Creek Road.
Two unspecified vehicles collided at the Valley Springs intersection for unknown reasons. How the collision occurred and why it happened has not been established.
Due to the severity of the impact, one of the vehicles ended up blocking both lanes of the road. Several people were reportedly injured as a result of the collision. The number of people injured and their condition has not been disclosed. Additional information about the crash is unavailable at the moment.
Two-Vehicle Collision Investigation is Underway
The California Highway Patrol is currently investigating the case. They will attempt to determine the cause and liability.
Car accidents are one of the leading factors of injury deaths in California. According to the National Highway Traffic Safety Administration (NHTSA), over 3,304 recorded fatal car accidents in California in 2017.
These accidents are caused by various reasons, such as distracted driving, drunk driving, and driver over-fatigue. Facing cases like this alone can be quite challenging. With the help of an experienced Calaveras County personal injury attorney, the victims won't need to deal with the stressful paperwork that comes with filing a claim.
Attorneys have the resources that can help them prove the negligence of the liable party. They can utilize their resources to re-interview important witnesses, review relevant surveillance footage from the scene, and obtain phone and texting records of the responsible party. Attorneys can also conduct an independent investigation to help the victims receive the justice they deserve.
Personal Injury Attorney for Victims of Two-Vehicle Crashes in Calaveras County
The victims may find it challenging to handle the case independently while attempting to recover from their injuries after the car accident. It is recommended that they seek an experienced attorney for filing for a personal injury claim.
After sustaining injuries from an accident, getting a personal injury claim is necessary to reduce a considerable weight off the victim's shoulders. Through the personal injury claim, the victims will be entitled to seek financial compensation for the medical expenses, lost earnings, emotional trauma, and pain and suffering that the accident has caused them.

Attorneys from Arash Law are capable of helping you win your claim. Our firm has decades' worth of experience and dedicated attorneys that will vigorously fight for your rights and ensure that you will receive the compensation you rightfully deserve. For more information, you may visit our offices located in Los Angeles, Sacramento, San Francisco, Riverside, Orange County, and San Diego or give us a call at (888) 488-1391 for a FREE Consultation with one of our lawyers.