Three people were hurt after a multi-vehicle collision in San Andreas on Thursday afternoon, April 20.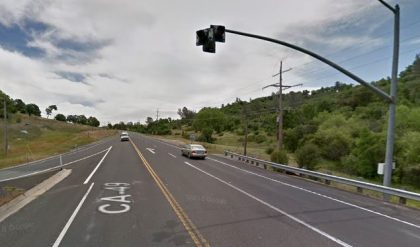 The collision took place at the intersection of Highway 49 and Highway 12 at approximately 3:15 p.m. A 1953 Chevy pickup truck driven by 86-year-old Narciso Sanchez was heading northbound on Highway 12 when, for unclear reasons, he drifted onto the opposite lanes.
The 1953 Chevy then collided head-on with a southbound 2020 Ford F-150 driven by 61-year-old Bryan Bowman. A Dodge Caravan driven by a woman named Linda Henson was also involved in the collision.
All three drivers sustained minor to major injuries from the mishap. The Chevy driver was airlifted to Memorial Medical Center, while the Dodge driver was taken to Doctor's Medical Center.
The Ford driver sustained minor injuries and was rushed to San Joaquin General Hospital for treatment.
No arrests have been made at the moment. Local authorities are further investigating the case and will attempt to determine the cause and the liability in the accident.

Multi-Vehicle Wrong-Way Collision Statistics
Tens of thousands of drivers and passengers lose their lives each year due to traffic accidents. According to the United States Department of Transportation's Fatality Analysis Reporting System (FARS), there were 33,654 fatal vehicle crashes in 2018, which caused 36,560 deaths.
Multi-vehicle collisions can result in extreme vehicular damage and death. A car accident is classified as a multi-vehicle collision when three or more vehicles are involved. This type of car accident is commonly caused by a "chain reaction," when one car bumps into another, which causes the other to hit the next vehicle.
Every year, approximately 355 people are killed in the U.S. due to wrong-way drivers. With the average number of wrong-way collision deaths at 265, 1.34 fatalities per wrong-way deaths are calculated. These accidents are caused by various reasons, such as distracted driving, drunk driving, and driver over-fatigue.
Personal Injury Attorney for Victims of Wrong-Way Multi-Vehicle Collisions in Calaveras County
Being seriously injured from a car accident can temporarily set you back from returning to your regular everyday life. Recovering from your injuries may hinder you from returning to your work or even doing normal tasks.
If you are suffering from major injuries due to someone else's negligence, it's important that you immediately seek the assistance of an experienced attorney. Attorneys can help you with filing a personal injury claim. Through the personal injury claim, the victim's family can seek financial compensation for the damages such as loss of income, pain, and suffering, and emotional trauma that the accident has caused them.
Since California is a 'comparative fault state, you can collect compensation even if you played a role in the cause of the accident that you're involved in.
We understand the common causes, defendants, and how to fight for compensation for collision-related injuries. Whether you suffered burns, broken bones, brain injury, a spinal cord injury, or other damages, talk to our attorneys. The road to recovery starts just a phone call away. Call (888) 488-1391 right away.