Workers Who Are at the Greatest Risk of Exposure
COVID-19 has caused serious injuries and death for all too many Californians. Sadly, many of these patients are our frontline heroes who contract the disease while on the job, working hard to keep the rest of us safe and healthy during this pandemic. If you are exposed to the coronavirus at work, you may be entitled to compensation from your employer. 
The World Economic Forum recently compiled its findings of which workers are at the greatest risk of being exposed to the coronavirus on the job. It noted that, with only 29 percent of Americans being able to work from home, the majority of American workers are facing the risk of being exposed to the coronavirus while on the job. But some workers face an even greater risk than others: 
Healthcare Workers
It stands to reason that healthcare workers caring for patients with the coronavirus will face an increased risk of being exposed themselves. But COVID-19 units are not the only healthcare facilities that pose a danger to staff members. Being in any concentration of people exposes a person's risk of being exposed to the coronavirus.
This is especially true when a worker must interact with members of the public. Emergency departments, urgent care facilities, and other walk-in facilities will also expose workers to any viruses patients bring into the facility. Coronavirus cases among healthcare workers have been difficult to track.
In early April, U.S. News and World Report was reporting that 4.4 percent of the healthcare workforce in Pennsylvania had the coronavirus. Meanwhile, 20 percent of all Ohio coronavirus cases were in healthcare workers while Rhode Island was slightly higher at 25 percent. These numbers are difficult to reconcile into a single tracking statistic.
What is generally accepted is that healthcare workers – especially those working with patients who have the coronavirus – are at an increased risk of being exposed to the coronavirus while on the job. 
---
Psychiatric Facility Employees
Psychiatric facilities have several unique qualities that make them more susceptible to coronavirus outbreaks than other healthcare facilities. There are many patients living in close quarters. Unlike other hospitals, these patients are usually ambulatory, able to move about and interact with other patients and staff. Psychiatric facilities also have less of the medical equipment that has helped contain outbreaks in other types of medical facilities. Personal protective equipment like gloves, gowns, and face masks are limited.
Laboratory equipment and testing kits are not regularly used, so these facilities have less access to the limited quantities that are available. Unfortunately, these conditions can be exacerbated by poor management of psychiatric facilities in pandemic conditions.  The New Yorker recently interviewed the director of a psychiatric unit about the many unnecessary risks staff members face in these facilities.
This high ranking employee – who had to stay anonymous for fear of retaliation – reported that doctors in the facility were not permitted to wear masks. The hospital had little personal protective equipment to offer, but doctors were even prohibited from wearing their own masks. The doctors were still being required to appear for in-person consultations. Remote communication would not only have been possible – it would also have been much safer for both doctors and patients.
Social distancing was neither logistically feasible nor enforced in this particular facility. Patients could only be isolated if they were both symptomatic and had tested positive (which is difficult to prove with a serious lack of testing equipment). Meanwhile, all the patients that had been in contact with COVID positive patients were still allowed to mingle with other patients and staff members freely. 
Prison and Jail Guards
Like psychiatric facilities, detention facilities have many unique conditions that expose staff members to an increased risk of the coronavirus. Security risks prevent staff members from wearing masks or gowns in most situations. Infected inmates also cannot always be separated from healthy inmates (due to both logistical limitations and security concerns). This increases the risk of the coronavirus being transmitted to both other inmates and staff members. 
Inmates also have a serious lack of access to the medical equipment and hygiene supplies that could stop the spread of coronavirus. Some facilities even charge inmates a copay for medical visits or supplies. This is a very real barrier to treatment that can increase the spread of coronavirus through a densely populated jail or prison. In other facilities, access to hand sanitizer is restricted due to its high alcohol content. And of course, inmates are not usually allowed to wear masks, gowns, gloves, or any other protective equipment that could conceal contraband or weapons. 
Across the country, support for decreased incarceration is coming from the most unexpected sources. Law enforcement agencies are encouraging officers to cite and release suspects without detaining them whenever it is possible and appropriate to do so. In light of the risks, Prosecutors throughout the United States are now agreeing to reduced sentences, work release programs, diversion programs, community services, and other programs that keep defendants out of jail.
And here in California, NPR reports that Alameda County is planning to release 250 inmates from jail after sentencing modifications. These are just some of the many steps being taken across the country to reduce jail populations in order to protect both inmates and staff from being exposed to the coronavirus. 
The Many Types of Coverage That Might Be Available to You 
There are many types of insurance that might be available to cover injuries and losses related to the coronavirus. While guidelines, regulations, and policies are changing by the day, state and federal governments are working to be sure that insurance carriers over coverage for coronavirus claims.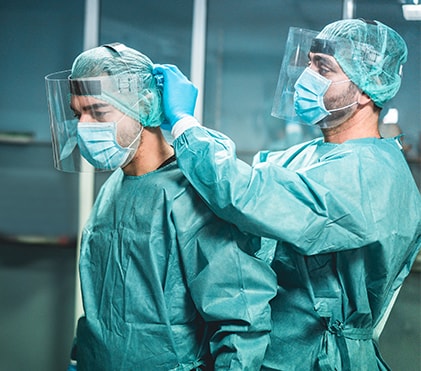 Health Insurance
Your health insurance coverage applies all injuries and illnesses that you sustain – regardless of how they happened or who is at fault. Sometimes there are other insurance coverages (such as a workers' compensation or personal injury claim) that might apply. In these cases, your health insurance carrier can sometimes seek reimbursement for the expenses it paid related to the accident, illness, or injury at issue. But this does not change the fact that your health insurance must cover these expenses when they are incurred.   
Workers Compensation Coverage
Employees who sustain an injury or contract an illness on the job are entitled to workers' compensation benefits. Like health insurance, workers' compensation applies regardless of who was at fault for causing the illness or injury. The worker needs only to prove that it occurred while on the job. This can be difficult with communicable diseases such as COVID-19. It could be difficult – if not impossible – to prove when and where a patient was exposed to the virus.
Because of this, the federal government has created a presumption that federal employees who are exposed to the public (such as law enforcement officers and healthcare workers) have contracted the disease while on the job. This allows these front line workers to access federal workers' compensation benefits. Unfortunately, the presumption only applies to employees of the federal government, and other employers are not obligated to follow this decision. But it is an important precedent that can help other front line workers establish their right to workers' compensation coverage for the coronavirus.
What You Must Prove in a Personal Injury Claim
In addition to insurance coverage, you might also have the right to bring a personal injury claim against your employer. Unlike workers' compensation, which is available to all workers injured on the job regardless of fault, a personal injury claim is only available to workers who can prove that their employers were negligent. Unfortunately, just because you are at a high risk of catching the coronavirus at work does not mean that you will be able to sue your employer for your injuries. The law has strict requirements for proving legal responsibility ("liability") for injuries. 
A Breach of the Duty of Care
Employers have a duty of care toward their employees. This varies, depending on the circumstances of your specific workplace, but in general, employers have a duty to take reasonable steps to provide a safe workplace. In the case of the COVID-19 pandemic, reasonable steps likely include following government guidance for workplace safety. Both the Centers for Disease Control and the Occupational Safety and Health Administration have issued guidelines to plan for and respond to coronavirus in the workplace. Employers who fail to access this readily-available information and follow these guidelines could be liable for outbreaks that occur in the workplace as a result of the employer's negligence. 
Reopening the country is another hot political issue with potentially fatal consequences. If your employer requires you to return to work before it is safe to do so, this could be considered negligence. Unfortunately, there is not yet clear guidance on when it will actually be safe to return to work. Statistical models change by the day as more and more data becomes available. This might make it difficult for employees to prove that it was too soon for employers to require them to return to work. But this, too, might be a possibility for workers who catch the coronavirus while on the job. 
Causation
Another challenge with suing your employers for catching the coronavirus is the causation requirement. Plaintiffs are entitled to compensation from a negligent defendant who caused their injuries or illness. With a communicable disease like the coronavirus, it might not be possible to prove where exactly you were exposed to COVID-19. But if you can, a personal injury lawsuit can give you access to more types of compensation (such as pain and suffering) than workers' compensation benefits. 
Choosing Between Workers Compensation Benefits and a Personal Injury Lawsuit
Like other states, California has enacted an "election of remedy" law. This means that injured workers must choose between workers' compensation benefits and a personal injury lawsuit. (There are limited exceptions where an injured worker can maintain both legal claims, but these are rare.) This is why it is important to consult with an attorney about whether workers' compensation benefits or a personal injury claim is right for your particular circumstances. 
Workers' compensation benefits are generally easier to access and available more quickly. The injured worker does not have to prove who was at fault for causing the accident – only that it occurred on the job. But workers' compensation benefits are limited. While all medical bills must be covered, lost wages are capped at a set limit. If the injuries are permanent, disability benefits are also limited. 
A personal injury claim, on the other hand, is only available to workers who can prove that their employer was negligent. All medical bills and lost wages must be reimbursed – as well as the full value of any future lost wages or employment benefits (such as health insurance and retirement contributions).
Because of this, many employees choose a personal injury claim if they are able to prove negligence. The payout from a personal injury claim usually takes much longer than a personal injury award or settlement, so personal injury plaintiffs must also be prepared to wait for compensation. 
Call Us Today to Speak with a California Personal Injury Lawyer
Personal injury cases related to the coronavirus will present new legal questions that have never before been faced by the legal profession. Because of this, it is important for coronavirus victims to work with an experienced personal injury lawyer who knows how to apply existing personal injury law to coronavirus cases in order to protect your right to be compensated for all the injuries and losses you suffer as a result of COVID-19. 
At Arash Law, our experienced personal injury attorneys have over twenty years of experience. We have collected over 200 million dollars for clients in San Francisco, Riverside, San Jose, San Diego, Sacramento, Sherman Oaks, and throughout California. Clients across the state trust our lawyers to protect their legal rights during the difficult period of recovery. Call (888) 488-1391 or contact us online to schedule your free consultation with an experienced California personal injury attorney.