Two people were killed due to a fiery two-vehicle traffic collision in San Ramon on early Sunday morning, January 10.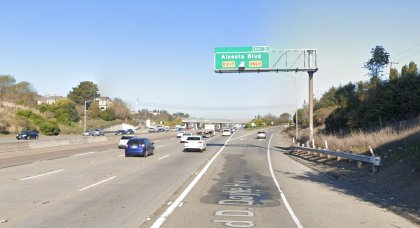 The accident happened at approximately 3:30 a.m. on Highway 680, just north of Alcosta Boulevard in San Ramon.
A southbound Volkswagen Jetta was traveling on Highway 680 when the driver reportedly lost control of his vehicle and veered off to the right side of the highway.
The Jetta driver attempted to swerve back, but it crashed into a center divider. It then stopped in the middle of the left lane, where a passing Ford Fiesta hit it.
The Jetta caught fire due to the severity of the impact. Two occupants of the Jetta were killed, while one was severely injured. One of the dead Jetta occupants was later identified as Joseph L.
The Fiesta driver sustained moderate injuries from the accident. Both the Jetta passenger and the Fiesta driver were taken to John Muir Medical Center in Walnut Creek for treatment.
Local authorities are currently investigating the case. Witnesses that can give more information about the accident are asked to call the Dublin office of the CHP at (925) 828-0466.
Fatal Car Accident Statistics
Every year millions of people are injured in automobile accidents on roads across the United States.
Tens of thousands of drivers and passengers lose their lives each year due to crashes. According to the United States Department of Transportation's Fatality Analysis Reporting System (FARS), there were 33,654 fatal vehicle crashes in 2018, which caused 36,560 deaths.
Car accidents are sometimes life-altering and traumatic. Because of how universal cars are to our lives, drivers often forget just how dangerous they can become and that severe and even deadly car crashes can occur. They sometimes drive recklessly, speed, get behind the wheel under the influence of alcohol or drugs, or drive distracted.
Fatal car crashes frequently occur on California's large and congested highways. Numerous individuals are killed each year on California's roads due to travel at high speeds and truck accidents. You might be surprised to learn that there are fatal accidents that occur at low-speeds on side streets. These low-speed accidents could happen because drivers are often less attentive while driving at slower speeds with less traffic. Many of them are distracted by their cell phone.
Contra Costa County Wrongful Death Attorney for Victims of Fatal Car Accidents
It can be quite devastating and stressful to suddenly lose a loved one due to a fatal two-vehicle collision. Pending the official investigation results, the victim's family is entitled to pursue a wrongful death claim with their attorney's help. Attorneys can help their clients receive financial compensation for their medical bills, funeral expenses, pain and suffering of the victim's family, wages the decedent would have earned in their lifetime, and loss of companionship.
A wrongful death accident lawsuit can also help pay for the high medical expenses and other costs incurred due to the crash. It can also help provide financial support for those who have lost income because of an injury or an unforeseen death. Legal action might also help prevent a similar tragedy from happening to other families.

Arash Law has a proven history of success in auto-accident and wrongful death cases, including a $1.5 billion verdict for a church volunteer's family killed by a distracted driver. If you have lost a loved one and wish to pursue a wrongful death claim, our attorneys from Arash Law are ready to assist you. We will ensure that you will get the compensation you deserve. Our offices in Los Angeles, Sacramento, San Francisco, Riverside, Orange County, and San Diego are open to accepting concerns and inquiries. You may also call us at (888) 488-1391 for a FREE Consultation.