A crossing guard was killed while a child was injured after a major pedestrian accident in front of a middle school in Lafayette on Wednesday afternoon, September 8.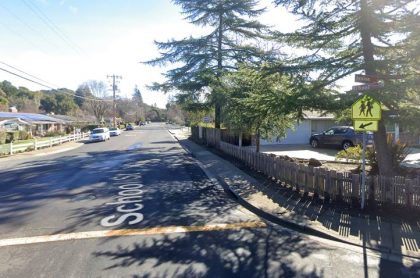 The crash took place outside of Stanley Middle School, in the 3455 block of School Street in Lafayette, at around 3:00 p.m. The crossing guard reportedly attempted to save the child from getting hit by a passing SUV. It's unclear why the SUV struck the two victims.
Emergency personnel later arrived at the scene and pulled the crossing guard out of the wreckage. He was then rushed to an area hospital, where he later died. The crossing guard was identified as 45-year-old Ashley D. It was his second day as a volunteer when the accident occurred.
Meanwhile, the child sustained minor injuries in the crash and was taken to an area hospital for treatment. The SUV driver that struck the two victims remained at the scene and willingly cooperated with authorities. The case is currently under further investigation. Witnesses that can give more information about the accident are urged to contact Sgt. C. Jacquez of the Lafayette Police Department at (925) 299-3234.

Fatal Pedestrian Accident Statistics
Pedestrians have no legal protection from deadly collisions when compared to private car or motorcycle passengers. As a result, pedestrian crashes are often fatal or cause serious injury. Due to the growing number of pedestrian accidents, the problem has become an increasing concern in the United States.
In the past 33 years, pedestrians currently make up a large percentage of traffic fatalities. The Governors Highway Safety Association (GHSA) says that from 2007 to 2016, pedestrian fatalities in the U.S. increased by 27 percent, while other traffic-related deaths decreased by 14 percent.
California has the most dangerous roadways for pedestrians. According to the National Highway Traffic Safety Administration, the fatality rate in California is 25 percent higher than the national average. In California alone, 893 pedestrians were killed, and 14,000 were injured on state roadways in 2018. Some common reasons for pedestrian accidents are negligent driving, speeding, and drivers failing to yield to pedestrians.
Wrongful Death Attorney for Victims of Pedestrian Accidents in Contra Costa County
California has a two-year statute of limitations which means that victims can only file a wrongful death claim up to two years since the accident occurred. Failure to do so may preclude them from seeking compensation for the damages the accident has caused them.
This is why it is imperative to file a wrongful death claim as soon as possible. One may obtain counsel from a seasoned attorney after filing a claim. Legal experts have the tools and knowledge to aid you in your claim. They can also represent you in negotiations with insurance companies to make sure you are fairly compensated.
Our lawyers from Arash Law are available 24/7 to help. A pedestrian accident lawyer from Arash Law will help you stay one step ahead of the insurance company or responsible party and avoid mistakes that would jeopardize your claim. Don't delay, and contact our firm today at (888) 488-1391 for a FREE Consultation with a wrongful death attorney.