One person was killed while another was seriously injured after getting struck by a hit-and-run driver in Brentwood on Sunday morning, April 4th.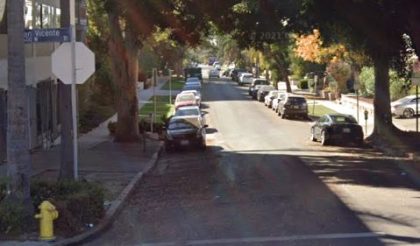 The deadly crash occurred shortly after midnight in the 11600 block of San Vicente Boulevard in Brentwood.
A homeless man in his 30's and another homeless man in his 50's was reportedly arguing in the area outside the Veterans Administration. As the altercation got more heated, one of the men reportedly went into his vehicle and ran over the older homeless man.
The suspect then ran over another homeless man who was estimated to be in his 30's shortly after. He did not stop to render aid and fled the scene.
The unidentified 51-year-old homeless man was pronounced dead at the scene. The other homeless man was seriously injured but is expected to survive.
Police later found the hit-and-run driver, and he was identified as 34-year-old Pedro F. He was booked for murder and assault with a deadly weapon and is being held in place of a $2 million bail. Local authorities are further investigating the case. Witnesses that can give more information about the case are urged to call LASD's homicide unit at 323-890-5500.

Fatal Hit-and-Run Pedestrian Accident Statistics
Leaving the scene after an accident is a crime in itself. Unfortunately, hit-and-run accidents still occur on U.S roadways every day. Unfortunately, hit-and-run accidents occur every minute in the U.S.
In 2016, approximately 2,049 hit-and-run fatalities were reported in the U.S. Annually, around 682,000 hit-and-run accidents occurred in the country. Pedestrians are common victims of hit-and-run accidents.
Pedestrians are completely defenseless and vulnerable in the event of someone else's negligence in the circumstances in which most pedestrian accidents occur. According to the Governors Highway Safety Association, pedestrian fatalities in the U.S. have increased by 27 percent from 2007-2016, while other traffic-related deaths decreased by 14 percent.
Contra Costa County Wrongful Death Attorney for Victims of Fatal Hit-and-Run Pedestrian Accidents
The sudden death of a loved one can be quite devastating for the victim's family. It may leave them vulnerable to manipulation by both insurance companies and other parties. To avoid this, it is necessary to have an attorney by your side to fight for your rights.
Our attorneys will also perform an immediate investigation to gather evidence while it is still available. We can also handle talks with the insurance company, calculate your damages, and use proven legal strategies during settlement negotiations and potential litigation.
Arash Law's experienced personal injury and wrongful death lawyers have extensive expertise and knowledge representing California pedestrians who have been injured or killed in pedestrian accident cases. We have an intimate understanding of the law that applies in such circumstances. We take the time to get to know our clients and their cases in intimate detail, enabling us to obtain the most favorable settlements or jury verdicts possible for our clients.
Call (888) 488-1391 for a FREE Consultation with a wrongful death attorney in California.