Over 270 cruise ships transport an estimated 30 million travelers annually. Passengers on these cruises come from different parts of the United States and even different countries. Cruise ships are inherently crowded places with closed environments that house people in close quarters, putting all passengers and staff at risk for many different communicable diseases.
Staff moving from one ship to the next also can cause the spread of infectious diseases—one of the most recent being the respiratory illness COVID-19.  If you were recently a passenger on a cruise ship and were diagnosed with coronavirus, meet with a knowledgeable California personal injury attorney. A lawyer can examine the circumstances surrounding your cruise ship travel and your diagnosis to determine if you have a valid legal claim.
---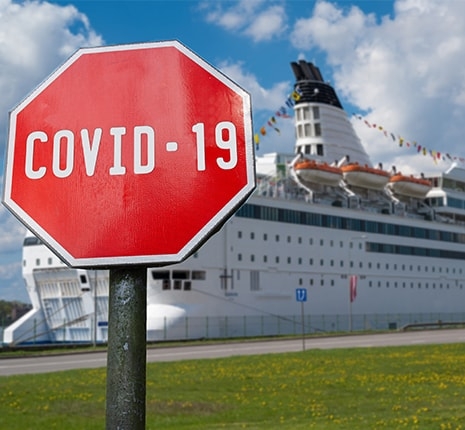 COVID-19 Spreads Through Cruise Ships
Since COVID-19 was discovered in Wuhan, China, in December 2019, it now inhabits a minimum of 187 countries and territories across the globe. Extensive transmission of the coronavirus occurred on cruise ships before the American pandemic.
This hearty and prolific virus caused the Centers for Disease Control to highly recommend that every worldwide defer travel via cruise ships during the pandemic.  They also issued a no-sail order that has been extended until conditions improve. 
Over 800 lab-confirmed positive cases of COVID-19 among travelers and crew members, including ten resulting deaths are attributed to three cruise ships sailing between February and March 2020. Cruise ships impacted include:
The Diamond Princess departing from Yokohama, Japan

The Grand Princess departing from and returning to San Francisco, CA

Nile River cruise ships in Egypt
On the Diamond Princess, the spread of the virus occurred among passengers before the quarantine was initiated, but crew infections peaked after quarantine. On the Grand Princess, crew members were likely infected on one trip and then transmitted COVID-19 to passengers on the next trip. Many of these passengers have already hired a California personal injury attorney to help them litigate claims against the company.
COVID-19 Cruise Ship Outbreak Lawsuits 
Claims against the Princess Cruise Lines for their Grand Princess voyage allege that the company permitted more than 2,000 passengers aboard this ship. They gave the passengers no warning or notification that there was a COVID-19 outbreak on the ship during the previous cruise. In fact, there over 60 passengers aboard the first cruise that remained for the second, potentially adding to the spread of the virus. 
The Ruby Princess was another cruise ship that was severely impacted by the outbreak. It sailed from Sydney, Australia. Like its sister ship, the Ruby Princess was also hit by an outbreak before its March 8, 2020 voyage. Since the company already knew about the previous outbreaks of the deadly virus on their ships beginning in early February, defendants and their attorneys say they should have gone further to protect subsequent passengers on any of their ships. 
Lawsuits are also pending against the Costa line because of deaths onboard its Costa Luminosa, which was denied entry at ports after a coronavirus outbreak. Plaintiffs in these cases allege that Costa not only knew about the previous outbreaks but refused to disclose that information to new passengers. 
Celebrity Cruises faces legal action related to their lack of proper protective gear for passengers that exposed them to the virus. Crew members are filing lawsuits against them for not distributing masks and implementing social distancing measures.
Can You Sue Your Cruise Line for COVID-19?
For many reasons, pursuing a legal claim against a cruise line for nearly any reason is a challenge. It is important to note that cruise lines are not U.S. companies and are, therefore, not obligated to abide by laws like Occupational Safety and Health Act (OSHA) or the Americans with Disabilities Act (ADA). To win a lawsuit against cruise lines, the plaintiff and their California personal injury lawyer must be able to show a judge or jury that the actions of the cruise line were unreasonable regarding the then-current circumstances. Unfortunately, unreasonable is a loose term in this context.  
Even still, it is best to seek the professional opinion of a skilled California personal injury lawyer before deciding if you have a claim worth pursuing or not. If you do but do not talk to an attorney, you will not get the compensation you deserve for your damages. Your attorney might be able to show that the cruise line ignored serious information about the COVID-19 pandemic and was, therefore, negligent in their failure to warn their passengers.
Fundamentals of a Successful Personal Injury or Wrongful Death Case
All personal injury or wrongful death cases must be rooted in a legal premise; usually, it is the premise of negligence. If the defendant is negligent, they failed to act or omitted an act that they had a duty to perform, or their actions were not reasonably prudent. To prove negligence, you and your California personal injury attorney must be able to prove the following points specific to your case:
A legal duty existed from the defendant and to the plaintiff

The defendant breached their duty by either acting in a certain manner or failing to act 

The plaintiff incurred an injury

Proximate cause, or proof that the defendant's breach of duty caused the plaintiff's injury
For cruise ships facing COVID-19 litigation, they owed a duty of care to their passengers. This duty will be different depending on the circumstances. However, it could involve warning future passengers that the virus had been present on the ship, conducting proper cleaning and disinfecting, taking steps to increase social distancing, or providing personal protective equipment to staff and passengers. They failed to act according to their duty, causing an injury to the plaintiff. 
For families who lost a loved one to a coronavirus infection that likely started on a cruise ship, their injury is the loss of their loved one. For plaintiffs who got the virus, their injuries can include physical and emotional suffering and medical bills. Finally, the cruise line's breach of duty was the proximate cause of the plaintiff's injuries. In these cases, the California personal injury attorney will need to prove that the plaintiff or their deceased family member was on a ship that had a COVID-19 outbreak and that they became ill as a result. 
Protections for Cruise Lines
One protection the cruise lines have on their side is their mandatory ticketing agreements. Every cruise passenger must sign this agreement, which limits how and where lawsuits against them can be filed. Another protection comes from a century-old maritime law, the Death on High Seas Act. This law places limits on how much money a family could recover for funeral expenses and the lost income of a loved one. Any deaths arising out of events that took place more than three miles from shore are subject to this law. 
A unique challenge to these lawsuits is to determine and prove the location of the cruise ship when the plaintiff passenger came down with coronavirus. However, your California personal injury attorney might be able to prove your claim within the context of the wrongful act that occurred while the ship was still onshore as the cruise line failed to screen passengers before they were aboard the ship. 
Another problem you might encounter in proving the negligence of the cruise line is the overall uncertainties and information about COVID-19 that remain unknown. There is currently no scientific information that shows how the outbreaks could have been prevented and how yours or your loved one's infection occurred. Proving the liability of cruise lines will be difficult with the lack of scientific information.   
All cruise lines have insurance that will cover any amounts they end up owing passengers or their families because of the coronavirus. The financial impact of these lawsuits will be small if anything at all. What poses a much more serious financial impact to cruise lines right now and probably for several months to come is the no-sail order in the U.S., which happens to be the cruise lines' biggest consumer. 
---
The Silver Lining
Since there are no laws that specifically address viral outbreaks on cruise ships, this is a new opportunity for laws to be created. With many lawsuits already filed against cruise lines and likely many more to come, new case law could be written. These laws could make it easier for future plaintiffs and their California personal injury lawyers to bring successful cases against cruise lines under similar circumstances.
Were you Diagnosed with COVID-19 After Travel on a Cruise Ship? Call a California Personal Injury Lawyer Today  
If you or a loved one traveled on a cruise ship between January and April 2020 and were subsequently diagnosed with the coronavirus, you could have a valid personal injury claim. Do not merely assume that your circumstances are not grounds for a lawsuit. Meet with California personal injury attorney from our firm and let them determine if you have a case.
Even if your case is challenging to prove, our attorneys are up for the challenge. They have recovered more than $200 million for previous clients. We serve clients in San Francisco, Riverside, San Jose, San Diego, Sacramento, Sherman Oaks, and throughout California. Contact Arash Law today at (888) 488-1391 or online to receive your free COVID-19 cruise ship case consultation.