One unidentified person was killed in a deadly pedestrian accident near East Hamilton Avenue on Thursday morning, August 26.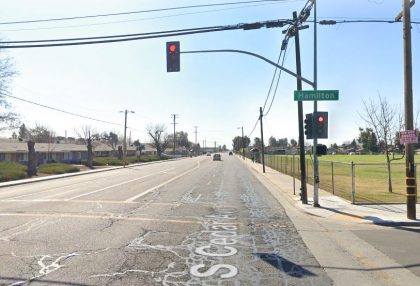 The fatal accident happened at approximately 6:45 a.m. on South Cedar Avenue near East Hamilton Avenue.
A vehicle traveling at 30 mph struck a man in his 60's for unclear reasons. The circumstances leading up to the accident have not been established.
Unfortunately, the victim sustained fatal injuries in the mishap. He was pronounced dead at the scene.
The driver that struck the pedestrian remained at the scene and willingly cooperated with authorities. The identities of the involved parties have not been disclosed.
An active investigation of the case is currently underway. Authorities will determine the factors that may have affected the crash.

Fatal Pedestrian Accident Statistics
Over the past 33 years, pedestrians make up a large percentage of traffic fatalities. But why? It is because pedestrians are more exposed to the dangers on the road than passengers of a private vehicle. According to the National Highway Traffic Safety Administration (NHTSA), pedestrian deaths accounted for 16% of all traffic fatalities in 2017. In 2017, 5,977 pedestrians were killed in traffic accidents in the United States. That equates to approximately one death every 88 minutes.
Children and the elderly are most likely to be injured or killed while walking anywhere in California. 4,000 elderly Americans were injured in pedestrian accidents last year, resulting in over 700 deaths across the country. Pedestrian accident in California has been on the rise. California's pedestrian fatality rate is 25% higher than the national average. More than 14,000 pedestrians were injured, and 893 people were killed on California's roadways in just one year (2018 figures).
Wrongful Death Attorney for Victims of Fatal Pedestrian Accidents in Fresno County
Following a fatal pedestrian accident, the victim's family is frequently left unsure of what steps to take next. Insurance companies, for the most part, are not on their side. They could be easily duped into accepting a settlement that is far less than the true value of their claim. To avoid this, you must hire an experienced pedestrian attorney to handle your wrongful death claim.
Arash Law's experienced personal injury attorneys have extensive experience and knowledge representing California pedestrians who have been injured or killed in pedestrian accidents. Call our hotline now at (888) 488-1391 for a FREE Consultation or pay us a visit in one of our offices in Los Angeles, Sacramento, San Francisco, Riverside, Orange County, and San Diego.