An unidentified 26-year-old man was killed after a deadly two-vehicle traffic collision at Temperance and Jensen Avenues on Wednesday afternoon, July 28.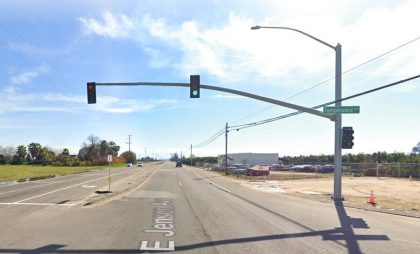 According to the initial reports from local authorities, the accident happened at around 4:00 p.m. in the area of Temperance and Jensen Avenues. A Kia Forte, driven by a 26-year-old man, drove through a red light and crashed into an SUV turning left from Temperance avenue.
Both drivers sustained serious injuries from the mishap and were immediately taken to Community Regional Center for treatment. Unfortunately, the Kia driver later succumbed to his injuries and was pronounced dead in the hospital.
The other driver, a 63-year-old woman, was hospitalized with major injuries but is expected to recover. The accident is currently under further investigation.

Fatal Two-Vehicle Crash Statistics
Car accidents happen every day on U.S. roadways. This comes as no surprise as cars are the most common form of transportation in the country. Millions of cars pass through U.S. roadways every day. The number of people killed or injured in car accidents in the United States has risen dramatically over the years.
According to the National Safety Council (NSC), an estimated 38,000 people were killed in motor vehicle accidents in the United States in 2019. Car accidents are sometimes life-altering and traumatic.
Because of how universal cars are to our lives, drivers often forget just how dangerous they can become and that severe and even deadly car crashes can occur. A variety of reasons cause these car accidents; they mainly occur due to drunk drivers, distracted drivers, people who break the speed limit, and drivers who ignore road laws in general.
Wrongful Death Attorney for Victims of Fatal Two-Vehicle Collisions in Fresno County
A resultant death does not mean that a negligent driver does not have to pay for the damage that they cause. The victim's surviving family members (or legal heirs) have the right to file a wrongful death claim against the negligent driver. If you lost a loved one or were seriously injured in a car accident caused by another driver's carelessness and negligence, you have the legal right to seek compensation for the damages that you've accrued from the accident.
To protect yourself and receive the full compensation to cover your medical and other related expenses, contacting an intersection accident attorney in California is your best option. A fatal car accident attorney cannot turn back the clock and restore things to their pre-accident state. We can, however, assist you in obtaining compensation for the terrible, unexpected losses the crash caused in your life.
Don't wait to seek the help you need after a motor vehicle accident. Call Arash Law today at (888) 488-1391 or complete our easy online intake form to receive your free car accident case evaluation with an experienced motor vehicle accident lawyer in California.