Two people were killed after a fatal two-vehicle traffic collision in Kerman on Saturday evening, July 24.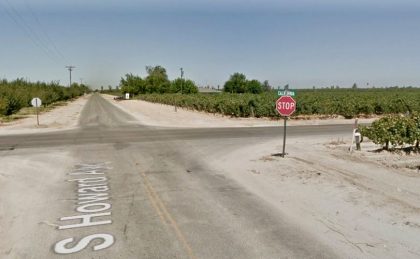 The major collision happened at approximately 8:14 p.m. on West California Avenue and South Howard Avenue in Kerman. Two unspecified vehicles collided on the roadway. One vehicle was allegedly traveling westbound at high speeds on California Avenue when, for unclear reasons, it veered into the opposite lanes and collided with an oncoming vehicle.
Both vehicles sustained major front-end damage from the crash. The driver of the speeding vehicle, who was later identified as 19-year-old Joseph R., was killed in the accident. His 19-year-old passenger was also killed in the crash.
Meanwhile, two other people inside the second vehicle sustained minor to moderate injuries and were taken to Community Regional Center for treatment. It is unclear whether drugs or alcohol played a role in the accident.
Additional information about the crash is unavailable at the moment. The crash is under further investigation. Authorities will attempt to determine the factors and the liability in the mishap.

Fatal Two-Vehicle Collision Statistics
The number of people killed or injured in motor vehicle-related accidents in the United States has increased dramatically over the years. According to the National Safety Council (NSC), an estimated 38,000 people were killed in motor vehicle accidents in the United States during 2019. Fatal car crashes frequently occur on California's large and congested highways. Numerous individuals are killed each year on California's roads due to travel at high speeds and truck accidents.
The California Office of Traffic Safety (OTS) reports that there were 3,563 car accident fatalities throughout the state in 2018 alone. Thousands of people must deal with grief and sudden loss in the wake of California's deadly accidents. A variety of reasons cause these car accidents; they mainly occur due to drunk drivers, distracted drivers, people who break the speed limit, and drivers who ignore road laws in general.
Wrongful Death Attorney for Victims of Fatal Two-Vehicle Collisions in Fresno County
Car accidents occur under numerous circumstances. Many of them involve the negligent or irresponsible behavior of another driver. After a deadly collision, an experienced fatal car accident lawyer can serve as your legal guide and a trusted advocate.
Fatal motor vehicle accident victims can be of any age. They are often following the law and are usually wearing their seatbelts for safety. Several hundred pedestrians are also hit and killed by cars every year in California. No matter the cause of your loved one's deadly wreck, a fatal car accident lawyer can offer you invaluable direction about what to do next.
Pursuing a wrongful death claim with the assistance of an experienced attorney will allow you to seek compensation for the damages that the accident has cost you. Through the wrongful death claim, the liable party will be required by law to provide financial compensation for the victim's medical bills, funeral expenses, pain and suffering of the decedent, and loss of companionship.
The best traffic accident lawyers in California are right here at Arash Law. Our skilled injury attorneys have decades of experience, and we have collected over 200 million dollars for clients across the state. We will fight for your legal rights so that you can focus on getting better. Call (888) 488-1391 or contact us online to schedule your free consultation.