A 10-year-old boy was sadly killed after getting struck by a hit-and-run driver in northeast Fresno on Thursday night, June 17.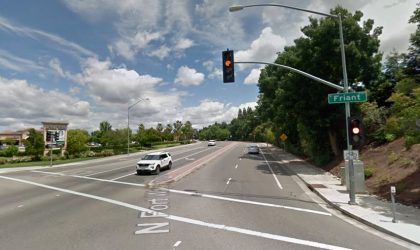 The fatal accident happened in the area of Friant and Fort Washington Road at approximately 11:30 p.m. The boy's family was reportedly strolling in the area when a passing vehicle suddenly struck the young boy.
The driver that struck the boy did not stop to render aid and drove away from the scene. The suspect's car was described as a black 2011-2014, four-door Chrysler 300 with major front-end damage.
Emergency personnel performed life-saving measures on the young boy before rushing him to Community Regional Medical Center. Unfortunately, he later succumbed to his injuries in the hospital and was pronounced dead.
The next day, officers received a tip about a black Chrysler on Emerson Avenue in northeast Fresno. They were later able to locate the whereabouts of the hit-and-run driver and apprehended him.
The suspect was arrested and booked into jail on charges of manslaughter and hit and run. The case is currently being further investigated. Witnesses that can give additional helpful information about the accident are urged to call the Fresno Police Department at (559) 621-7000.

Fatal Hit-and-Run Accident Statistics
Leaving the scene after an accident is a crime in itself. Unfortunately, hit-and-run accidents still occur on U.S roadways every day. Unfortunately, hit-and-run accidents occur every minute in the U.S.
In 2016, approximately 2,049 hit-and-run fatalities were reported in the U.S. Annually, around 682,000 hit-and-run accidents occurred in the country. Pedestrians are common victims of hit-and-run accidents. California is the only state with more than 300 hit-and-run deaths. In 2016 alone, there were 337 hit-and-run related deaths in the golden state.
Children and the elderly are at the highest risk of suffering an injury or fatality while walking anywhere in California. Children under age 15 made up 39 percent of all pedestrian accidents, with nearly 10 percent of these cases resulting in fatalities.
Wrongful Death Attorney for Victims of Fatal Hit-and-Run Accidents in Fresno County
In a traffic collision, both parties are always required to remain at the scene until authorities arrive. Losing a loved one due to another person's negligence is already frustrating in itself; however, it can be especially stressful when the other driver flees the scene and leaves the victim.
Pending the official investigation results, the victim's family is encouraged to pursue a wrongful death claim with their attorney's help. The victim's family can seek compensation for the damages (such as loss of income and companionship, funeral costs, pain and suffering, and emotional distress) that the fatal accident has caused them through the wrongful death claim.
Arash Law's experienced personal injury and wrongful death lawyers have extensive expertise and knowledge representing California pedestrians who have been injured or killed in pedestrian accident cases. We have an intimate understanding of the law that applies in such circumstances. We take the time to get to know our clients and their cases in intimate detail, enabling us to obtain the most favorable settlements or jury verdicts possible for our clients. Call our office at (888) 488-1391 today to discuss your accident with a lawyer for hit-and-run cases.