An unidentified person was killed after a deadly pedestrian accident on Highway 99 on Monday morning, December 28.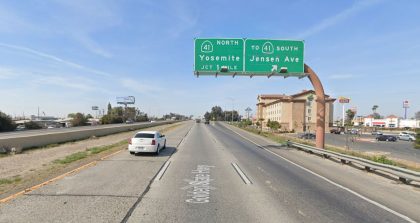 According to the California Highway Patrol's initial reports, the accident occurred at around 4:30 a.m. on Highway 99 at Jensen Avenue exit.
The pedestrian was initially walking in the number four lane when an unspecified vehicle suddenly hit them.
Due to the severity of the impact, the pedestrian was pushed into the number three lane, where they were later hit by another passing vehicle.
The pedestrian sustained fatal injuries as a result of the crash. They were later pronounced dead at the scene.
Drugs and alcohol were not considered as factors in the accident.
Fatal Pedestrian Accident Investigation is Underway
Local authorities are currently investigating the case. They will attempt to determine the factors that caused the fatal accident.
Pedestrians are more vulnerable to the dangers on the road compared to passengers in private vehicles. Pedestrian fatalities in the U.S. have become a growing concern over recent years. Pedestrian deaths have increased by 27 percent from 2007-2016, while other traffic-related deaths decreased by 14 percent. Some common reasons for pedestrian accidents are negligent driving, speeding, and drivers failing to yield to pedestrians.
When facing cases like this, it's vital to have an experienced Fresno accident attorney conduct an independent investigation. Attorneys are capable of assisting their clients throughout the process. They will also re-interview important witnesses, review relevant surveillance footage from the scene, and obtain the responsible party's phone and texting records.
Wrongful Death Attorney for Victims of Fatal Pedestrian Accidents in Fresno
It can be quite stressful and devastating to suddenly lose a loved one due to a fatal pedestrian accident.
Pending the official investigation results, the victim's family is entitled to seek compensation for the accident's damages through the wrongful death claim with their attorney's assistance. The victims can seek financial compensation for damages like loss of income, funeral expenses, pain and suffering, and emotional distress through the wrongful death claim.

If your loved one passed away from an auto accident and you wish to bring justice for them, Arash law is capable of giving you the justice you deserve. Our firm has decades of experience handling injury and wrongful death cases. We will ensure that you will get the compensation that you rightfully deserve. Our offices are conveniently spread throughout California. If you have any inquiries, visit us at our firms in Los Angeles, Sacramento, San Francisco, Riverside, Orange County, and San Diego. You may also call us at (888) 488-1391 for a FREE Consultation.