Three children and two adults were killed after a collision involving a tractor-trailer on Interstate 5 on Tuesday night, January 5.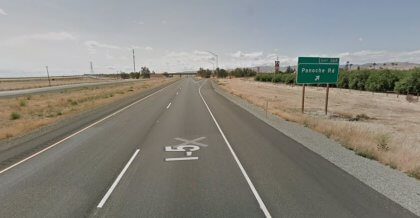 According to the California Highway Patrol's initial reports, the accident happened at 9:26 p.m. on Interstate 5 near Panoche Road. A pickup truck was initially driving north on Interstate 5 when, for unexplained reasons, it went over to the southbound lanes where it collided with a tractor-trailer.
The two vehicles then caught fire due to the severity of the impact. Three children and two adults who were riding in the pickup truck were killed in the collision.
The driver of the big rig sustained minor injuries. It was unclear whether drugs or alcohol played a role in the accident.
Fatal Big Rig Accident Investigation is Underway
The California Highway Patrol will attempt to determine why the pickup truck went into the opposite lanes during the official investigation.
Tractor-trailer accidents are more deadly compared to other types of road accidents. It's mainly because of the considerable size difference of big rig trucks compared to other vehicles. A fully loaded big rig needs as much as 20 to 40 percent more stopping distance.
According to the U.S. Department of Transportation's Fatality Analysis Reporting System (FARS), big rig trucks have increased by 30 percent since 2009. There were 4,102 traffic fatalities involving a big rig in 2017 alone. Common reasons why this type of accident occurs are loss of control of the truck, a tire blowout, a disabling or non-disabling vehicle failure, excessive speed, lane drifting, improper truck maneuvering, and driver fatigue.
Seeking an experienced attorney's assistance can help the victim's immensely with their case as attorneys have the resources they can use to conduct an independent investigation. During the independent investigation, they will re-interview important witnesses, review relevant surveillance footage from the scene, and obtain the responsible party's phone and texting records.
Fresno County Wrongful Death Attorney for Victims of Fatal Big Rig Accidents
Suddenly losing a loved one from a deadly big rig crash can be overwhelming and stressful for the victim's family.
While waiting for the results of the official investigation, the victim's family is encouraged to pursue a wrongful death claim with the help of their attorney. Through the wrongful death claim, the family can seek financial compensation for medical bills, funeral expenses, pain, and suffering.

If your loved one has been killed in a tragic accident and you wish to pursue justice for them, we at Arash Law will help you. Contact Arash Law as our team of experienced lawyers has the resources to seek justice for wrongful death. With our offices spread throughout California, you won't have a hard time reaching out to us. For inquiries and questions, please pay our offices in Los Angeles, Sacramento, San Francisco, Riverside, Orange County, and San Diego a visit. You may also contact us at (888) 488-1391 for a FREE Consultation.