One unidentified person was injured after a motorcycle collision at an intersection in Fresno on Sunday evening, February 28.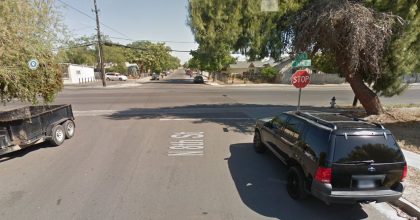 According to the local authorities' initial reports, the accident took place at the Olive and Eighth Street intersection at around 7:30 p.m.
A motorcyclist and an unspecified vehicle collided at the intersection for unclear reasons. The motorcycle was pinned under the vehicle as a result of the collision.
Concerned civilians attempted to rescue the motorcyclist by using a fork jack to pull him out of the wreckage.
The motorcycle rider sustained moderate injuries from the accident. He was rushed to the Community Regional Center for treatment.
The other driver remained at the scene and cooperated with the police. Local authorities are currently investigating the case. They will attempt to determine the factors and the liability in the collision.

Motorcycle Crash Statistics
In 2017, approximately 16,505 motorcycle accidents occurred, which resulted in 16,505 motorcycle accidents.
Motorcycle accidents often result in serious consequences for the motorcycle rider. Roughly 80% of all motorcycle cases result in injury or death. Motorcyclists are highly vulnerable in collisions and can easily sustain catastrophic and fatal injuries.
Many injuries can result from a motorcycle crash, from road rash and traumatic tattooing to head and brain injuries. Motorcycle accidents also have serious effects on the involved party's mental health, often resulting in emotional scarring.
Some of the common causes of motorcycle accidents are distracted driving, speeding, drunk driving, reckless driving, bad weather, wrong-way driving, and failure to observe traffic laws.
Fresno County Personal Injury Attorney for Victims of Motorcycle Accidents
Being injured after a motorcycle accident can be quite stressful and overwhelming. Although it is possible to pursue a personal injury claim on your own, it is better if you seek the help of an experienced attorney to ensure that you'll get the compensation that you deserve.
Attorneys assist you in filing your claim. Aside from that, they can also speak with insurance companies on your behalf. Protect your rights and your future by retaining an attorney to settle your case or take it to trial if need be. Our Fresno-headquartered motorcycle accident lawyers from Arash Law work on a contingency-fee-basis, meaning you only pay attorneys' fees if we win you a monetary award.
Whether a motorcycle crash led to your severe injuries and disability or the death of a family member, contact us. Call (888) 488-1391 to schedule your free consultation anywhere in California. Our offices are conveniently located in Los Angeles, San Diego, San Francisco & Riverside, plus we also serve the Irvine, Orange County, Fresno, and Sacramento areas, to name a few.