One unidentified man was seriously injured after a major multi-vehicle traffic collision at Avenue 12 and Highway 41 on Thursday evening, September 16.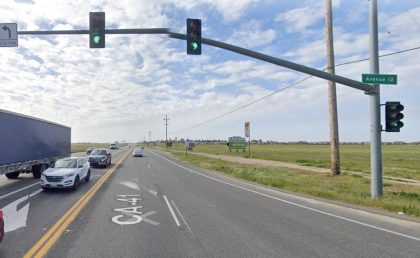 According to the initial reports from local authorities, the accident took place on Avenue 12 and Highway 41 at around 4:00 p.m. Four vehicles were involved in the collision.
How the crash occurred and the reason it happened has not been established. One man was seriously hurt in the mishap.
He sustained severe head injuries and was rushed to an area hospital for treatment. The identities of the involved parties have not been disclosed.
Authorities suspect that speed may have been a factor in the crash. Information about the crash is limited at the moment. Local authorities are further investigating the cause of the collision.

Multi-Vehicle Collision Statistics
When three or more cars are involved in a collision, it is referred to as a "multi-vehicle collision." They are frequently caused by a "chain-reaction" crash, in which one vehicle collides with another, potentially causing it to collide with other cars on the road. California has its fair share of high-profile car accidents. After all, the state of California's population has been increasing over the last decade. With more people driving to their destinations.
According to the California Office of Traffic Safety (OTS), 3,563 people were killed in car accidents in the state in 2018. Thousands of people are dealing with grief and unexpected loss as a result of California's deadly accidents. Drunk driving, speeding, and distracted driving are all factors in these types of accidents. All drivers are encouraged to practice defensive driving and to pay attention on the road at all times to prevent these accidents from happening.
Personal Injury Attorney for Victims of Multi-Vehicle Collisions in Fresno County
Multi-vehicle collisions are frequently more difficult to handle than two-vehicle accidents. Victims may find it difficult to deal with a multi-vehicle crash lawsuit because they are dealing with the stress and anguish caused by the accident.
It is strongly suggested that you seek the counsel of an experienced personal injury attorney. The responsible party will be legally obligated to pay for the victim's medical bills, lost earnings, emotional distress, and pain and suffering as a result of the personal injury suit.
When you hire a California car accident lawyer, they will examine the circumstances of your accident from every angle. They will determine who is liable and what insurance policies may be available to you in order for you to receive full and fair compensation for your losses.
Arash Law's experienced car accident lawyers understand the most common causes, defendants, and how to fight for compensation for collision-related injuries. Speak with our attorneys if you have suffered burns, broken bones, a brain injury, a spinal cord injury, or other damages. The path to recovery is only a phone call away. Call (888) 488-1391 as soon as possible.