A 19-year-old woman identified as Hannah P. was killed after her vehicle was struck by a suspected gang member on Stanislaus Street on Wednesday afternoon, May 12.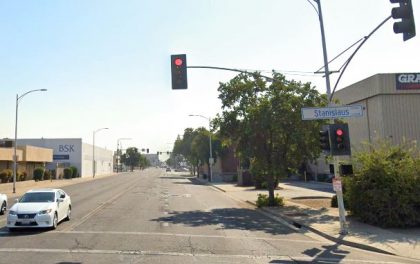 Authorities were initially pursuing a black Ford Focus in Chinatown. The driver was suspected to be a gang member who was wanted for several weapon violations.
A California Highway Patrol deputy with the MAGEC attempted to pull over the driver, but the driver was non-compliant and attempted to flee from the area and threw a loaded AR-15 rifle out of his vehicle.
The Ford Focus then went against traffic at high speeds to evade the police. The Ford Focus then slammed into a BMW on Stanislaus Street. The gang member then jumped out of his car and fled the scene on foot after the collision.
The BMW driver was killed as a result of the collision. Local authorities are now actively pursuing the suspect while investigating the crash.

Speeding Collision Statistics
In fatal car crashes, speed is often a major contributing factor. Speed increases the severity of injuries that are sustained in any car accident. According to the National Highway Traffic Safety Administration, nearly ten thousand victims were killed across the United States in 2018 in auto accidents caused by speeding. In 2017, speeding was a factor in 26 percent of all traffic fatalities.
Many drivers give in to the temptation to speed. Maybe traffic is heavy, or they have places to be, or they are running late. There are many excuses, But what these drivers don't think about are the many legal consequences of driving faster.
Speeders can be charged with crimes. Reckless driving is a misdemeanor offense, but it is still a crime. If a speeding driver kills a victim through their negligence, that driver can be charged with homicide. Manslaughter charges are often filed against drivers who kill a victim through their inattention or poor choices.
Fresno County Wrongful Death Attorney for Victims of Speeding-Related Accidents
Many victims of hit and run accidents don't realize that even though the at-fault driver disappears, they are still likely to be entitled to compensation for the medical expenses, lost wages, and pain and suffering incurred.
You have the legal right to be fully and fairly compensated for all the losses you suffer. It is vital to hire an experienced wrongful death attorney who knows how to get you the compensation you deserve.
Through the wrongful death claim, the liable party will be required by law to provide financial compensation for the victim's medical expenses, lost earnings, emotional trauma, and pain and suffering.
The experienced auto accident lawyers at Arash Law have decades of experience. We have collected over 200 million dollars for clients across the state. We serve clients in San Francisco, Riverside, San Jose, San Diego, Sacramento, Sherman Oaks, and California.
We fight hard to protect your legal rights so that you can focus on making the best recovery possible from your injuries. Call (888) 488-1391 or contact us online to schedule your free consultation.