An unidentified man was killed after getting struck by two vehicles in Kerman on Friday evening, January 22.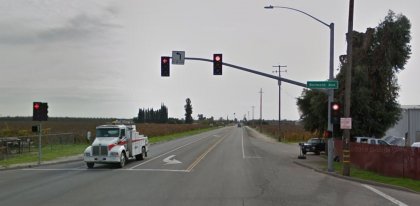 The fatal accident occurred at around 7:00 p.m. on Route 145 near Belmont Avenue in Kerman.
The male pedestrian was reportedly walking directly into the path of a northbound Toyota RAV4 for unclear reasons.
Due to the severity of the impact, the man was thrown into the road, where a passing Chevy sedan later struck him.
Additional information about the accident is unavailable at the moment. It is unclear whether drugs or alcohol were a factor in the collision.
The California Highway Patrol (CHP) is currently investigating the accident. They will attempt to determine the factors and the liability in the accident.

Fatal Pedestrian Accident Statistics
Pedestrian accidents result in more fatalities than other roadway accidents. This is because pedestrians are the least protected against the dangers on the road.
Pedestrians currently make up a large percentage of traffic fatalities in the past 33 years. According to the Governors Highway Safety Association, pedestrian fatalities in the U.S. have increased by 27 percent from 2007-2016, while other traffic-related deaths decreased by 14 percent.
Pedestrian accidents often lead to severe injuries and even death to those who are unlucky enough to be involved in such an accident. Common injuries resulting from pedestrian accidents are head trauma like concussions or brain bleeds, traumatic brain injuries, and many other debilitating injuries. Many pedestrian accident injuries can result in either functional impairments or long-term conditions.
There are several reasons why pedestrian accidents occur, including distracted driving, speeding, negligent driving, and drivers failing to avoid pedestrians.
Fresno County Wrongful Death Attorney for Victims of Fatal Pedestrian Accidents
Dealing with a loved one's sudden death due to a fatal pedestrian accident can be quite debilitating for the victim's family. They may still be overwhelmed with stress and grief over the sudden loss and may make unwise decisions.
Seeking the help of an experienced attorney is highly recommended. Attorneys are capable of assisting their clients throughout the process. They will also re-interview important witnesses, review relevant surveillance footage from the scene, and obtain the responsible party's phone and texting records.
Attorneys can also assist them in filing their wrongful death claim. With the wrongful death claim, the victims can seek financial compensation for damages like loss of income, funeral expenses, pain and suffering, and emotional distress.
We have helped our injured clients recover more than $200 million. Our law firm's experienced personal injury attorneys are available at any time — day or night 365 days per year — to answer your questions and provide you with expert legal guidance. Call (888) 488-1391 today to arrange a free consultation, or use our contact form to reach us online.