One unidentified person was seriously hurt after a semi-truck accident at Fresno-Coalinga Road early Wednesday morning, August 4.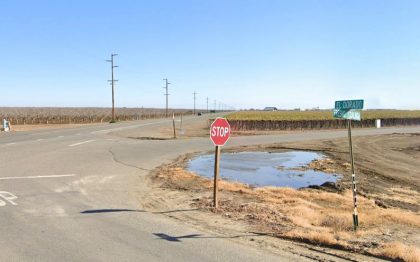 The major collision occurred at the intersection of Fresno-Coalinga Road and El Dorado Avenue, just south of Five Points, at around midnight. A semi-truck transporting tomatoes reportedly ran a red light and ended up colliding with a semi-truck carrying grapes at the intersection.
The semi-truck transporting grapes was T-boned. Due to the severity of the impact, a massive spill was reported at the intersection. The tomato truck driver was trapped inside the wreckage and was extricated by emergency personnel.
He was immediately airlifted to an area hospital with major injuries. The accident is currently under further investigation. Authorities will attempt to determine the factors that affected the accident and the liability.

Semi-Truck Accident Statistics
Semi-trucks have become a vital part of the economy. They are responsible for transporting products and goods across the country. However, it must adhere to strict rules and regulations to help keep everyone on our road system safe. When the industry chooses to cut safety corners to keep up with demand, they can potentially endanger motorists everywhere.
Truck accidents cause some of the most serious injuries of all traffic accidents, in large part because a heavy truck generates more force in a collision. The more force generated in a collision, the more serious a victim's injuries are likely to be. According to the U.S. Department of Transportation data, almost 4,000 people were killed in tractor-trailer accidents in the U.S. back in 2015.
The number of semi-truck accident fatalities from 2009-2015 rose to a whopping 22 percent. Eleven percent of all traffic fatalities also involved a tractor-trailer back in 2015. Tractor-trailer crashes are often caused by loss of control of the truck, a tire blowout, a disabling or non-disabling vehicle failure, excessive speed, lane drifting, improper truck maneuvering, and driver fatigue.
Fresno County Personal Injury Attorney for Victims of Semi-Truck Accidents
Semi-truck accidents often result in serious injuries that require extensive medical treatment. Dealing with the aftermath of a semi-truck accident can be difficult and stressful, as it can affect all aspects of one's life, including family, work, and finances. When facing tractor-trailer accidents like this, it's vital to have a professional personal injury attorney specializing in tractor-trailer accidents.
An attorney can conduct an independent investigation for the client to prove the negligence of the guilty party. A personal injury claim will allow the victims to seek compensation for the damages such as medical expenses, lost wages, and pain and suffering caused by the accident.
Our attorneys from Arash Law can serve as a helpful legal guide during these difficult times for the grieving family. They will vigorously fight for their client's rights while ensuring that the negligent driver will be held accountable for their suspected crime.
Arash Law is a semi-truck accident law firm in California, and we have been helping victims of truck accidents like you for several decades. Our dedicated semi-truck accident firm is committed to helping you obtain the compensation you deserve! Call (888) 488-1391 for a FREE Consultation with a wrongful death attorney in California.