A 78-year-old man was seriously hurt after getting struck by a suspected hit-and-run driver in Wasco on Sunday afternoon, July 11.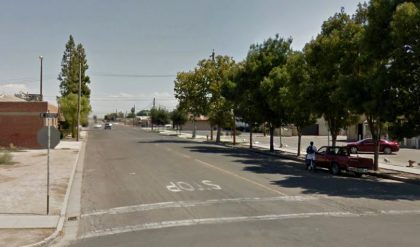 According to the initial reports from local authorities, the accident occurred at around 2:30 p.m. in the 700 block of E Street in Wasco. The victim was struck by a passing vehicle while he was attempting to cross the street. The circumstances leading up to the accident have not been established.
The driver that struck the victim did not stop to render aid and fled the scene. The victim sustained serious injuries from the mishap. Authorities were later able to locate the driver and apprehend him.
The hit-and-run driver was identified as 66-year-old Samuel P. He was found in his car in the 1900 block of D Street. The suspect was arrested for several charges. He was charged with hit-and-run causing injury, careless driving, resisting or delaying arrest, drug possession, and driving without a license.
Local authorities are further investigating the case. Witnesses that can give more information about the crash are urged to contact the Kern County Sheriff's Office at 661-861-3110 or Secret Witness at 661-322-4040.

Hit-and-Run Pedestrian Accident Statistics
It is a crime in itself to flee the scene of an accident. Every minute, hit-and-run accidents occur in the United States. Since 2006, approximately 682,000 hit-and-run crashes were reported across the country, with an average of 2,000 reported deaths per year. In 2015 alone, 737,100 hit-and-run crashes occurred across the country. With these statistics, we can say that at least six people are killed every day in the U.S. due to hit-and-run accidents.
The state of California is extremely dangerous for pedestrians. California ranks first in terms of pedestrian fatalities, with a fatality rate that is 25 percent higher than the national average. According to the California Department of Public Health, 893 pedestrians were killed, and more than 14,000 people were injured due to pedestrian accidents in 2018.
Kern County Personal Injury Attorney for Victims of Hit-and-Run Pedestrian Accidents
Being hurt in a pedestrian accident can be extremely stressful and distressing. It may take some time for the victim to recover from their injuries, preventing them from returning to work. This is why it is essential to file a personal injury claim with the assistance of an experienced attorney. A personal injury claim will allow the victims to receive compensation for the damages that the accident has caused them.
If a hit-and-run driver has injured you, you should contact a hit-and-run accident lawyer right away to protect your rights. Don't worry about legal fees; reputable California hit-and-run lawyers won't charge you anything unless and until your claim is successfully collected.
The personal injury and wrongful death attorneys at Arash Law have extensive experience representing California pedestrians who have been injured or killed in pedestrian accidents. We have a thorough understanding of the law that governs such situations. We take the time to get to know our clients and their cases in-depth to obtain the most favorable settlements or jury verdicts for them. Call our office today at (888) 488-1391 to speak with a hit-and-run lawyer about your accident.