One person was killed after a major multi-vehicle traffic collision in Bakersfield on Monday evening, July 12.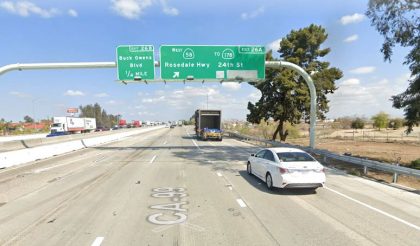 The deadly collision took place on Highway 99 in Bakersfield near Rosedale Highway at approximately 6:21 p.m. A total of four vehicles were involved in the collision. A Ford was initially heading southbound on Highway 99 in the construction bypass lane. The Ford stopped for traffic.
Meanwhile, a Toyota and a Honda behind the Ford were trying to slow down and stop for the traffic light as well. Unfortunately, the Dodge behind the three vehicles failed to slow down and rear-ended the Honda. The rear-end crash then triggered a chain reaction which resulted in several vehicles in front of the Dodge crashing into each other.
The 72-year-old man driving the Dodge was pronounced dead at the scene. Meanwhile, the Honda driver sustained minor injuries and was taken to an area hospital for treatment. The identities of the involved parties have not been disclosed. Local authorities are further investigating the cause of the accident.

Fatal Multi-Vehicle Collision Statistics
In California, motor vehicle accidents are one of the leading causes of unintentional injury deaths. According to the National Highway Traffic Safety Administration, in 2017, there were 3,304 fatal car accidents in California. In California, on average, 48 over 100,000 people died due to their injuries in 2018.
One type of car accident is a multi-vehicle collision. When three or more cars are involved in an accident, this type of accident occurs. They frequently result from a "chain-reaction" collision, in which one vehicle collides with another, potentially causing it to collide with other vehicles on the road.
In this case, the trigger was a rear-end collision. Rear-end collisions can be minor, but they can also be extremely severe. Their severity typically depends on several factors but mainly on how fast the rear car traveled when it hit the front driver. Car accidents can often lead to irreversible and sometimes fatal consequences. All drivers are encouraged to practice responsible driving to avoid this.
Kern County Wrongful Death Attorney for Victims of Fatal Multi-Vehicle Collisions
For the victim's family, losing a loved one in a fatal multi-vehicle collision can be devastating and painful. Cases like this can be complicated, which is why you should seek the advice of an experienced attorney. Establishing fault and liability is essential to any car accident.
Don't point fingers or accuse the other party of fault, even if you are confident that you aren't the liable party. Leave that aspect of the case for your California motor vehicle accident lawyer and the authorities to take care of. It's one less thing that you need to worry about during this difficult time.
Our team of compassionate and experienced California fatal car accident lawyers is available to help you after a loved one's death in a car accident. Arash Law has recovered more than $500 million for previous clients just like you. A fatal car accident attorney from our office can handle the legal issues for you. Call Arash Law today at (888) 488-1391 or contact us online to schedule your free no-obligation fatal car accident case review.