An unidentified minor was killed after a deadly motorcycle collision in Bakersfield on Sunday afternoon, January 10.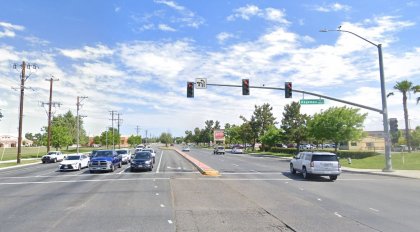 The accident took place at the intersection of Coffee and Hageman Roads in Bakersfield at approximately 1:00 p.m. A motorcycle and an SUV were involved in the collision. The SUV reportedly attempted to make a left turn in front of a westbound motorcycle.
Emergency personnel later arrived at the scene and found one man and one minor lying on the roadway. The minor was unfortunately pronounced dead at the scene.
The man sustained life-threatening injuries from the accident and was rushed to Kern Medical for treatment. The driver of the SUV remained at the scene and cooperated with local authorities. It is unclear what caused the accident to occur.
The Bakersfield Police Department (BPD) is currently investigating the case. They are attempting to determine whether drugs or alcohol were a factor in the crash. Anyone that can give more information about the accident is encouraged to contact the BPD at 661-327-7111.
Fatal Motorcycle Accident Investigation is Underway
Motorcycle accidents can often lead to catastrophic and even devastating results. According to the National Highway Traffic Safety Administration's National Center for Statistics and Analysis, approximately 5,286 motorcyclists were killed in the U.S. in 2016 alone.
Motorcycle riders are more vulnerable to the road's dangers than passengers of private cars as seatbelts or airbags do not protect them. Motorcycle riders are encouraged to dress appropriately and wear a helmet every time they ride their motorcycle to prevent fatal injuries. Wearing helmets were estimated to be 37% effective in preventing motorcycle deaths.
At Arash Law, we know compensation won't bring back your loved one after a motorcycle accident. It can, however, go a long way toward improving your family's financial future. We want to help you seek justice, compensation, and closure after the tragic death of someone you loved
Kern County Wrongful Death Claim for Victims of Fatal Motorcycle Accidents
While nothing can reverse the damage incurred in a motorcycle accident, the civil courts offer a financial remedy to injured parties. After a motorcycle crash, speak to an experienced injury attorney immediately.
The aggressive motorcycle accident lawyers at Arash Law have decades of experience handling these types of wrecks throughout California. We've helped thousands of people recover after accidents similar to yours. Our mission is to protect crash victims' rights and assist them in negotiations with large insurance companies that don't have their best interests at heart. You have nothing to lose in contacting us.

Consult with one of our wrongful death attorneys today, and you can call us through our hotline number (888) 488-1391 or visit our offices in Los Angeles, San Diego, San Francisco & Riverside for a free case evaluation.