One unidentified man was seriously injured after getting struck by a passing vehicle in Bakersfield on Monday night, August 23.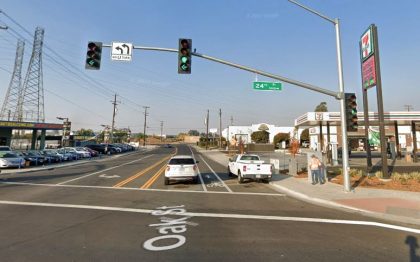 The accident transpired at approximately 11:40 p.m. at the intersection of 24th and Oak Streets in Bakersfield. The man was struck by a passing vehicle in the intersection under unclear circumstances. How the accident occurred, and the reason it happened has not been established.
Emergency personnel later arrived at the scene and found the victim lying in the intersection with major injuries. He was immediately taken to an area hospital and is currently in critical condition. The driver that struck the pedestrian remained at the scene and cooperated with authorities.
He was uninjured in the mishap. Drugs and alcohol were not considered as factors in the accident. The case is currently under further investigation. Witnesses that can give more information about the accident are urged to call the Bakersfield Police Department at 661-327-7111.

Pedestrian Accident Statistics
When compared to passengers in private automobiles, pedestrians are more vulnerable to the dangers of the road. Unlike passengers in private cars, who are protected by airbags and seat belts, pedestrians are not protected in any way that can prevent deadly injuries. In the US, 16% of traffic fatalities involve pedestrians. According to the Governors Highway Safety Association, pedestrian deaths in 2020 increased by 21 percent from 2019. Approximately 6,721 pedestrians were killed in 2020 alone.
California's pedestrian fatality rate is 25% higher than the national average. In 2018, 893 pedestrians were killed, and 14,000 were injured in California roadways. Distracted driving, speeding, intoxicated drivers, and failure to give the right of way are common causes of pedestrian accidents.
Personal Injury Attorney for Victims of Pedestrian Accidents in Kern County
Pedestrian accidents can leave victims seriously injured and temporarily disabled. As a result, they may be unable to return to their regular life and can even potentially lose their jobs as they are unable to work. Victims can seek compensation for their medical bills and lost wages through a personal injury claim. Although it is possible to pursue a personal injury claim alone, it's still better to hire an experienced attorney to help you.
Insurance companies or defendants may try to coerce you into providing a recorded statement that later can be used against you to dispute liability or your damage to reduce their liability. The victims are encouraged to pursue a personal injury claim with their attorney's assistance to avoid this.
Our experienced pedestrian attorneys from Arash Law can negotiate with insurance companies on behalf of their clients to ensure that they will be fairly compensated. Call us now at (888) 488-1391 to arrange a free consultation, or use our contact form to reach us online.