At least three people were hurt after a major two-vehicle collision in Hanford on Wednesday morning, June 9th.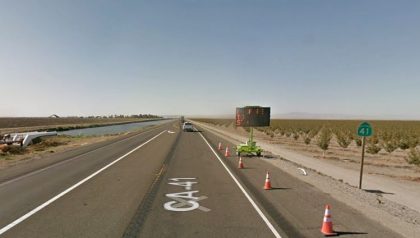 The accident happened at approximately 8:57 a.m. on Highway 41 near Nevada Avenue in Hanford. A white Ford F-150 was reportedly attempting to pass a big rig and another vehicle at 80 mph. Unfortunately, the Ford driver was unable to see the southbound white Hyundai Elantra.
The two vehicles attempted to veer out of the way, but they could not successfully avoid each other. The Ford and the Hyundai collided head-on. Due to the severity of the impact, the front half of the Hyundai was completely destroyed.
Three people were taken to Kaweah Delta Medical Center in Visalia and Adventist Health in Hanford. One of them had to be airlifted to the hospital due to the severity of his/her injuries. The identities of the involved parties have not been disclosed.
Additional information about the accident is unavailable at the moment. The California Highway Patrol is further investigating the case.

Two-Vehicle Collision Statistics
Car accidents in the U.S. happen almost every minute. Tens of thousands of drivers and passengers lose their lives each year due to crashes. According to the United States Department of Transportation's Fatality Analysis Reporting System (FARS), there were 33,654 fatal vehicle crashes in 2018, which caused 36,560 deaths.
A head-on accident is defined as the front end of any two vehicles hitting each other. These types of crashes happen mainly in a traffic light, stop sign, or blind intersections and on freeways.
Unfortunately, not everyone survives a head-on collision. Although head-on collisions only represent 2 percent of accidents, they account for 10 percent of fatalities on U.S. roadways. Head-on crashes at intersections occur when drivers disregard traffic laws and signals, such as red lights, stop signs, or yield signs.
Kings County Personal Injury Attorney for Victims of Two-Vehicle Collisions
A permanent injury can quickly accrue millions of dollars in financial losses. Permanent injuries also require permanent medical care. Victims often spend years seeing specialists, getting second opinions and consultations, and following up with a primary care provider. They will likely need medications and assistance devices (such as a wheelchair or walker).
If, for example, you are unable to return to work, you are entitled to compensation for all the wages you would have earned between the time of the accident and the time of your expected retirement. If you've suffered injuries in a car crash, you need legal advice from experienced California accident lawyers. The other driver's insurance company is not on your side. Their job is to pay you as little as possible. This is why it is essential to have an attorney assist you with your claim.
Our skilled California accident lawyers have years of experience handling all types of accident claims at Arash Law. Let us take your paperwork and protect your legal rights so that you can focus on your recovery. Call (888) 488-1391 for a FREE Consultation with a personal injury attorney in California.