One unidentified person was killed after a hit-and-run crash in Irwindale on Tuesday morning, February 9.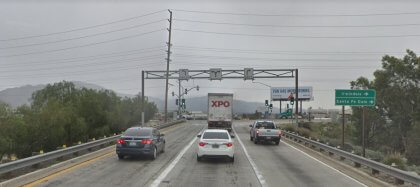 The accident happened around 5:30 a.m. on Irwindale Avenue, near the Foothill (210) Freeway overpass.
The pedestrian was reportedly struck by an unspecified vehicle in the northbound lanes for unexplained reasons. The driver did not stop to render aid and fled the scene.
The victim was immediately rushed to an area hospital with critical injuries. He was unfortunately later pronounced dead.
Details about the suspect's appearance, vehicle, and whereabouts are currently unknown. The Irwindale Police Department is actively pursuing the suspect.
Witnesses that can provide more information about the accident are urged to contact the police at 626-430-2245 or Crime Stoppers at 800-222-TIPS.

Fatal Hit-and-Run Pedestrian Accident Statistics
California law is clear that if a motorist bumps or hits an unattended parked car, the driver must leave his or her name and contact information for the driver of the damaged vehicle.
If someone's property has been damaged, it is illegal to drive away in an attempt to go undetected. To do so is a misdemeanour that can carry the maximum sentence of up to six months in jail and a fine of up to $1,000.
Unfortunately, despite laws apprehending hit-and-run drivers, it's still a common occurrence on U.S. roadways. Every year, approximately 682,000 hit-and-run crashes are recorded all over the country since 2006, with an average of 2,000 reported deaths annually.
The most common victims of hit-and-run accidents are pedestrians. Sixty percent of people killed in hit-and-run accidents are pedestrians. Common reasons why hit-and-run drivers flee the scene are intoxication, driving without a license, and fear of getting arrested if they remain.
Wrongful Death Claim for Victims of Fatal Pedestrian Hit-and-Run Accidents in Los Angeles
It can be quite devastating for the victim's family to suddenly lose their loved one due to a deadly hit-and-run accident. The stress and sorrow they feel may overwhelm them and leave them vulnerable to insurance companies and poor decisions.
The victim's family is highly encouraged to seek an experienced attorney's assistance to help them with their wrongful death claim.
If you or your loved one was injured – or worse – killed in a hit and run accident, you're likely to be overwhelmed in the aftermath. While you attend to the vital task of moving forward toward a full physical and emotional recovery, allow your hit and run accident lawyer to help guide your claim toward its best possible resolution.
Our attorneys at Arash Law are prepared to help you 24/7. Call our office at (888) 488-1391 today to discuss your accident with a lawyer for hit and run cases.