Three people were hurt, including a CHP officer, after a multi-vehicle collision in the Adams-Normandie area on Thursday morning, February 11.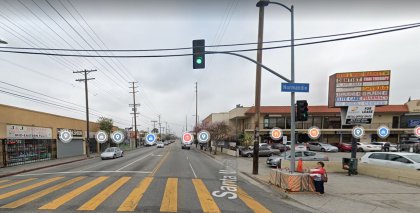 According to the local authorities' initial reports, the accident transpired at around 10:43 a.m. on the westbound 10 Freeway at Normandie Avenue.
Two vehicles and a motorcycle were involved in the collision. A CHP officer was reportedly called into the area to direct traffic after an earlier crash. He parked his motorcycle near Normandie Avenue.
While the officer was directing traffic and a truck was towing one of the vehicles from the earlier collision, a Nissan Altima travelling at high speeds suddenly struck the officer's parked motorcycle.
The motorcycle then bumped into the officer and was pushed onto a Prius and the tow truck. Three people, including the officer, were seriously injured as a result of the collision. They were taken to an area hospital to receive treatment.
The Nissan driver attempted to flee the scene but was later apprehended by local authorities. Local authorities are further investigating the case.

Multi-Vehicle Collision Statistics
Car accidents in the U.S. are becoming a serious problem. According to the National Highway Traffic Administration, a car accident occurs every 60 seconds, which means approximately 5.25 million car accidents occur every year throughout the country.
Over 3,304 recorded fatal car accidents in California in 2017. These accidents are caused by various reasons, such as distracted driving, drunk driving, and driver over-fatigue.
Multi-vehicle collisions are just one type of this car accident. This type of crash usually involves three or more vehicles. A "chain-reaction commonly causes this type of accident," wherein one car will bump into another, which will cause the other vehicle to crash into another one potentially. This type of accident can be more deadly and complicated.
Your damages are the losses that the negligent driver caused. There are many other losses you might suffer as a result of a car accident. Some of these (like auto repair bills) are easy to value. Others (like pain and suffering) are more difficult. Insurance companies are notorious for trying to devalue the losses that are hard to value. Here, too, it is important to take advice from a lawyer on your side who knows what your claim is actually worth.
Personal Injury Attorney for Victims of Multi-Vehicle Collisions in Los Angeles
Your personal injury claim starts by opening a claim with the other driver's insurance company. If you choose to do this before hiring an attorney, be careful: the insurance company will likely ask you to make a recorded statement about how the accident occurred. This can be used against you later.
If you have an attorney, all communication must go through his or her office. This protects you from hurting your claim. This is why hiring an attorney for this process is essential.
If you believe you have grounds to file a claim, retain a local car accident attorney in California near you who can help you navigate car accident laws. Arash Law has decades of experience throughout California and has secured million-dollar settlements and verdicts for our clients. Our car accident team can investigate your crash, identify the potential defendant(s), and file your claim with the civil court system as quickly as possible. Don't delay – you're just a phone call away from learning your legal options.
Call (888) 488-1391 for a FREE Consultation with a personal injury attorney in California.