A 58-year-old man identified as Harutiun M. was killed after a deadly multi-vehicle traffic collision in Sun Valley on Saturday morning, February 6.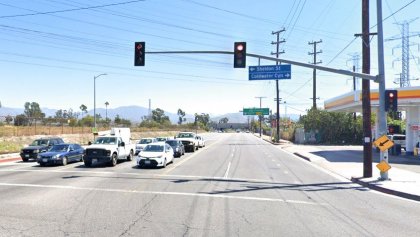 The collision occurred at the intersection of North Coldwater Canyon Avenue and Roscoe Boulevard at approximately 9:06 a.m. The 58-year-old victim was initially driving his silver Mini Cooper on the roadway when he was struck by a Silverado pickup truck that ran a red light.
Due to the severity of the impact, the cars collided with other vehicles on the roadway. One of the vehicles that were hit was a silver Pathfinder that was stopped at a red light. A total of four cars were reportedly involved in the collision. The 58-year-old man sustained fatal injuries from the crash.
Unfortunately, he was later pronounced dead at the scene. The pickup truck driver abandoned his vehicle, hopped into a silver sedan, and fled the scene. Police suspect that the pickup truck driver may have stolen the pickup truck before the collision.
Local authorities are further investigating the case. They are actively looking for the suspect.

Fatal Multi-Vehicle Collision Statistics
Car accidents are sometimes life-altering and traumatic. Because of how universal cars are to our lives, drivers often forget just how dangerous they can become and that severe and even deadly car crashes can occur.
When a car accident occurs, the victims, their families, and the entire community are often devastated. The California Office of Traffic Safety (OTS) reports that there were 3,563 car accident fatalities throughout the state in 2018 alone. Thousands of people must deal with grief and sudden loss in the wake of California's deadly accidents.
Multi-vehicle collisions usually involve three or more vehicles. A "chain-reaction commonly causes this type of accident," wherein one car will bump into another, which will cause the other vehicle to crash into another one potentially.
This type of car accident is usually more complicated to deal with as several people are involved. Common reasons why car accidents occur are negligence, drunk driving, speeding, and exhausted drivers.
Wrongful Death Claim for Victims of Multi-Vehicle Collisions in Los Angeles
Losing a loved one from a deadly multi-vehicle collision can be quite devastating and stressful to deal with.
If you recently lost a loved one in a motor vehicle accident, you are familiar with this. You might wonder how you will ever be able to live your everyday life again. It will take time, and there are no quick fixes, but you can learn to cope and rebuild your life.
When a motor vehicle accident leads to death, the family members of those who died may suffer both emotionally and, often, financially. One step that many families find helpful after losing a loved one in a car accident is meeting with a compassionate fatal car accident attorney.
Call Arash Law today at (888) 488-1391 or contact us online to schedule your free no-obligation fatal car accident case review.