The 23-year-old man was driving his sedan northbound in the southbound No.3 lane for unclear reasons. His sedan then later collided head-on with a northbound SUV.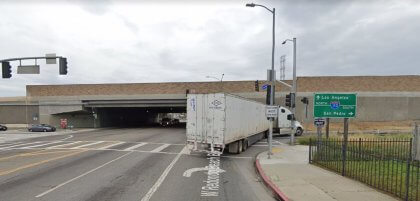 A third vehicle was also involved in the collision, but the circumstances leading up to it were not established. 
The sedan driver was pronounced dead at the scene. His identity has not been disclosed at the moment. 
The female driver of the SUV sustained serious injuries from the crash. She had to be extricated from the wreckage by emergency personnel. 
She was rushed to Harbor UCLA Medical Center with fractures to her pelvis, an arm, and a leg. The occupants of the third vehicle were also injured in the accident.
Local authorities are currently investigating the case. They will attempt to determine the facts and the liability in the accident. 

Deadly Head-On Collisions Statistics
In a head-on collision, the collision force is increased by both involved vehicles' speed and weight. There is a lot of energy generated by head-on collisions. In turn, this increased energy means that injuries are more likely to be fatal in this type of crash. The injuries that can be survived can be severe, so victims of a head-on collision are also more likely to have permanent brain damage, amputations, or disabilities. 
Although head-on collisions only represent 2 percent of accidents, they account for 10 percent of fatalities on U.S. roadways.
Head-on collisions can cause severe injuries. This fact means that, sadly, not all victims will be able to survive a head-on crash. Surviving family members have the right to sue a negligent driver for wrongful death after a fatal head-on collision.
Common causes of head-on collisions are distracted drivers, inexperienced drivers, drivers that drive while under the influence of drugs and alcohol, and wrong-way drivers. 
Los Angeles Personal Injury Attorney for Victims of Serious Head-On Collisions
Pending the official investigation results, the victims are encouraged to pursue a personal injury claim with their attorney's assistance. The liable party will be required by law to compensate for the medical expenses, lost earnings, and non-economic damages (such as emotional trauma, pain, and suffering). 
Head-on accidents can lead to severe injuries. Many of these injuries are permanent, and permanent injuries can lead to a lifetime of pain and suffering. The financial costs of these injuries are staggering: a lifetime of medical bills and lost wages for decades of work can quickly run in the millions of dollars.
This can happen even before one accounts for the intangible losses an accident victim suffers, such as physical pain and the emotional suffering of living with an injury or disability. Injury victims need to protect their legal right to compensation by hiring an attorney experienced in head-on accidents ASAP!  
An experienced car accident attorney from Arash Law can handle the legal issues for you. Call Arash Law today at (888) 488-1391 or contact us online to schedule your free no-obligation fatal car accident case review.