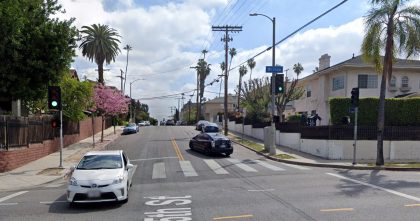 An unidentified woman was killed after getting struck by a hit-and-run driver in Koreatown on Friday morning, October 2.
The fatal accident took place in the area of Wilton Place and Fifth Street at approximately 1:20 a.m. A northbound black Jeep Grand Cherokee reportedly struck the woman. The driver of the Cherokee stopped for a moment then fled the scene.
Why the collision occurred, and the factors that caused it to happen is currently unknown. The woman was pronounced dead at the scene due to the severity of her injuries.
Fatal Hit-and-Run Pedestrian Accident Investigation is Underway
The Los Angeles Police Department is currency further investigating the case. They are gathering more evidence and are attempting to locate the hit-and-run driver. Fleeing from the accident is a crime in itself. Unfortunately, around 11 percent of all crash cases involve a hit-and-run driver. Hit-and-run drivers would often leave the scene due to intoxication, driving without a license, or fear of being arrested if they remained at the scene. Drunk driving is one of the most reckless and dangerous things a driver can do.
Unfortunately, approximately 300,000 people are injured each year in the U.S. due to drunk driving accidents. According to the National Highway Traffic Safety Administration (NHTSA), approximately 10,000 people are killed annually due to DUI accidents. According to the Center for Disease Control and Prevention information, around 18% of all fatal motor accidents involve drugs and alcohol.
Los Angeles Wrongful Death Attorney for Victims of Fatal Hit-and-Run Pedestrian Accidents
Suddenly losing a loved one due to a fatal hit-and-run accident can be quite stressful and devastating. While waiting for the official investigation results, the victim's family is entitled to pursue a wrongful death claim with their attorney's help.
Through the wrongful death claim, the victim's family can seek compensation for the damages such as funeral expenses, loss of companionship and income, emotional distress, and pain and suffering that the accident has caused them. Attorneys can serve as a compassionate, helpful guide for the grieving family during this difficult time. They will vigorously fight for their client's rights and best interests while ensuring that the liable party will be held accountable for their negligence.

If you have a nagging suspicion that someone is to blame for your spouse or family member's death or injury, contact Arash Law. We have the resources you need to pursue justice for wrongful death and the experience to ensure that you get fair compensation. We're conveniently located throughout California, with offices in Los Angeles, Sacramento, San Francisco, Riverside, Orange County, and San Diego, and are happy to visit you. Call (888) 488-1391 for a FREE Consultation with a wrongful death attorney in California.