One person was injured after a major hit-and-run DUI accident in Hollywood on Saturday night, February 6.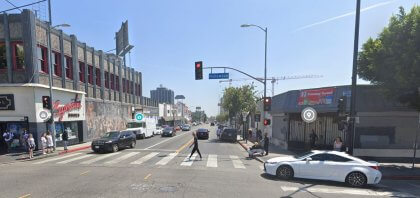 The accident transpired at approximately 9:45 p.m. at the intersection of Hollywood Boulevard and Wilcox Avenue. A white BMW sedan drove through the intersection where it struck a black Nissan.
The BMW driver exited his vehicle and fled the scene on foot.  The Nissan driver sustained severe injuries as a result of the accident. He was rushed to an area hospital for treatment. 
Authorities later caught the BMW driver. He was identified as 23-year-old Jonathan Watts. Watts is being held in lieu of a $100,000 bail. 
Local authorities are further investigating the case. 

DUI Hit-and-Run Accident Statistics 
Driving while under the influence of drugs and alcohol is considered one of the most reckless and dangerous things a driver can do. Unfortunately, DUI cases in the U.S. are not uncommon. 
According to the National Highway Traffic Safety Administration (NHTSA), approximately 30 people in the U.S. die every day due to drunk driving accidents. Drunk driving accounts for about 29 percent of all motor vehicle accident fatalities in the U.S. Around sixty-one percent of these drivers have a Blood Alcohol Content of .08 percent or higher.  Leaving the scene after an accident is also considered a crime in itself.
Unfortunately, hit-and-run drivers still leave the scene.  California law is clear that if a motorist bumps or hits an unattended parked car, the driver must leave his or her name and contact information for the driver of the damaged vehicle. If someone's property has been damaged, it is illegal to drive away in an attempt to go undetected. 
Los Angeles County Personal Injury Attorney for Victims of DUI Accidents
Sustaining injuries from a DUI crash can be quite overwhelming and stressful to deal with. Although it is possible to file a personal injury claim on your own, seeking an experienced attorney's assistance is better. 
Often, defendants and their insurance carriers will defend DUI accident claims aggressively — doing everything from undervaluing a victim's damages to trying to push some of the faults for the DUI accident onto the victim. 
All successful personal injury claims, including drunk driving accident claims, are built on a sturdy foundation of compelling, reliable, and well-presented evidence. Our California DUI accident lawyers can help you put together a strong, effective legal claim. 
Our California drunk driving accident attorneys are influential, aggressive advocates for DUI accident victims at Arash Law. Drunk drivers must be held accountable for their egregious and dangerous behavior. 
Visit our offices in Los Angeles, Sacramento, San Francisco, Riverside, Orange County, and San Diego for any inquiries and concerns. You may also contact us through our hotline (888) 488-1391 for a free consultation with one of our attorneys.