At least one person was injured after a major wrong-way crash that involved several vehicles in Long Beach on Monday morning, March 8.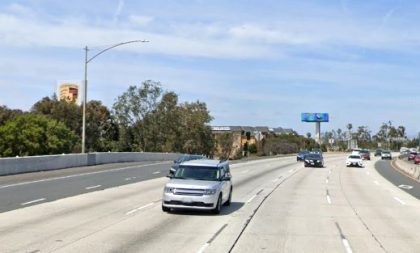 The accident occurred on the San Diego (405) Freeway in the South Bay area around 8:31 a.m.
An unspecified vehicle was reportedly traveling northbound in the southbound lanes for unclear reasons. The wrong-way driver then collided with several other vehicles, which caused a pile-up on the roadway.
A white Tesla, a white Toyota Tacoma pickup truck, a silver Toyota Corolla, and a dark gray Toyota 4Runner SUV were involved in the collision.
It is unclear which vehicle the wrong-way driver was driving. One person was trapped in their vehicle and was extricated by emergency personnel. The Long Beach Fire Department responded to the scene and treated anyone who was hurt.
Additional information about the collision is unavailable at the moment. The California Highway Patrol is currently investigating the accident. They will attempt to determine the cause of the collision and the liability.

Wrong-Way Collision Statistics
Every year, approximately 355 people are killed in the U.S. due to wrong-way drivers. With the average number of wrong-way collision deaths at 265, 1.34 fatalities per wrong-way death are calculated.
Head-on crashes at intersections occur when drivers disregard traffic laws and signals, such as red lights, stop signs, or yield signs.
Freeway head-on collisions usually happen when drivers enter the wrong way on on-ramps or off-ramps, sometimes due to intoxication or drug use. At our law firm, our goal in a head-on collision case is to help clients in every way.
Attention to the road, competence behind the wheel, and proper vehicle maintenance can reduce the odds of getting into a collision. Negligence, recklessness, and breaking the law are at the heart of most "accidents." At Arash Law, we've represented clients in dozens of car crash cases.
Los Angeles Personal Injury Attorney for Victims of Wrong-Way Collisions
Wrong-way collisions can result in injuries such as a spinal cord injury, paralysis, or head trauma. As a result, the victim may require special care, in addition to expensive medical treatments, surgeries, therapies, and other injury-related care.
While waiting for the official investigation results, it would be best to have an attorney handle your personal injury claim for you. The liable party will be required by law to provide financial compensation for the victim's medical expenses, lost earnings, emotional trauma, and pain and suffering.
Suppose you have been injured in a wrong-way collision. In that case, the aggressive automobile accident legal team at Arash Law may be able to recover compensation for your injuries, medical costs, loss of wages, pain, and suffering, and other road traffic accident-related expenses.
Call (888) 488-1391 for a FREE Consultation with a wrongful death attorney in California.