A 40-year-old woman identified as Margo S. was killed after getting struck by a hit-and-run driver in the Arlington Heights area on Thursday morning, March 11.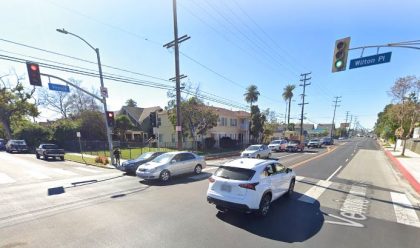 The deadly accident took place at the intersection of Venice Boulevard and Wilton Place in Arlington Heights at around 6:30 a.m.
The victim was reportedly walking inside a marked crosswalk when she was suddenly struck by a white Chevrolet Silverado pickup truck.
The Chevrolet driver didn't stop to render aid and fled the scene. The victim was found by emergency personnel on the roadway. She was sadly pronounced dead at the scene.
Information about the suspect's whereabouts and identity is unavailable at the moment. Anyone that can provide information that can lead to the suspect's arrest will receive a reward of up to $50,000.
The Los Angeles Police Department is currently handling the case. They are actively pursuing the hit-and-run driver.
Witnesses that can give additional information about the accident are urged to contact the LAPD West Traffic Division at 213-473-0234 or 213-473-0562. Witnesses that wish to remain anonymous can also call Crime Stoppers at 800-222-8477.

Fatal Hit-And-Run Pedestrian Accident Statistics
Being injured by another driver in a car accident is never easy, but if the other motorist doesn't even bother to stop, accept responsibility, and provide aid, it makes the situation that much more difficult.
Unfortunately, many victims of hit and run accidents don't realize that even though the at-fault driver disappears, they are still likely to be entitled to compensation for the medical expenses, lost wages, and pain and suffering incurred.
Pedestrians currently make up a large percentage of traffic fatalities in the past 33 years. According to the Governors Highway Safety Association, pedestrian fatalities in the U.S. have increased by 27 percent from 2007-2016, while other traffic-related deaths decreased by 14 percent.
Leaving the scene after an accident is a crime in itself. Unfortunately, hit-and-run accidents still occur on U.S roadways every day. Unfortunately, hit-and-run accidents occur every minute in the U.S.
In 2016, approximately 2,049 hit-and-run fatalities were reported in the U.S. Annually, around 682,000 hit-and-run accidents occurred in the country. Pedestrians are common victims of hit-and-run accidents.
Los Angeles Wrongful Death Attorney For Victims of Pedestrian Hit-And-Run Accidents
California law is clear that if a motorist bumps or hits an unattended parked car, the driver must leave his or her name and contact information for the driver of the damaged vehicle. If someone's property has been damaged, it is illegal to drive away in an attempt to go undetected. To do so is a misdemeanor that can carry the maximum sentence of up to six months in jail and a fine of up to $1,000.
The sooner you retain a hit-and-run lawyer accident near me, the better your chances of obtaining the compensation to which you are entitled.
If you or your loved one was injured – or worse –killed in a hit-and-run accident, you're likely to be overwhelmed in the aftermath. While you attend to the important task of moving forward toward a full physical and emotional recovery, allow your hit and run accident lawyer to help guide your claim toward its best possible resolution.
The dedicated hit and run attorneys at Arash Law are committed to helping you recover from the damages you've suffered. Our dedicated legal team has decades of experience fighting for the rights of accident victims just like you. We're available to help 24 hours a day and seven days a week, so please don't hesitate to call our office at (888) 488-1391 today to discuss your accident with a lawyer for hit and run cases.