An unidentified 41-year-old man from South Gate was killed while three others were injured after a multi-vehicle traffic collision in Pomona on Sunday morning, January 24.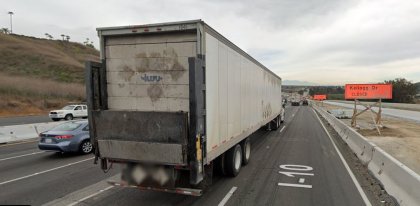 The deadly accident took place on 10 Freeway near Kellogg Drive off-ramp in Pomona at approximately 12:00 a.m. A 2013 Chevrolet Malibu reportedly rear-ended a disabled 2018 Honda Accord in the number four lane on the westbound 10 Freeway.
The impact caused the Honda to move into the 41-year-old South Gate man and two other people that left their vehicle. A westbound 2016 Chevrolet Cruze then later crashed into the Chevrolet Malibu.
Unfortunately, the 41-year-old man was pronounced dead at the scene. Two other people were seriously injured as a result of the crash. They were immediately taken to Pomona Valley Hospital Medical Center.
The driver of the Chevrolet Malibu left the scene before local authorities arrived. Local authorities are actively pursuing the hit-and-run driver.
Witnesses that can give more information about the accident are urged to contact CHP Officer J. Gruidl (626-338-1164).
Car Accident Statistics
Every year millions of people are injured in automobile accidents on roads across the United States.
Tens of thousands of drivers and passengers lose their lives each year due to crashes. According to the United States Department of Transportation's Fatality Analysis Reporting System (FARS), there were 33,654 fatal vehicle crashes in 2018, which caused 36,560 deaths. This fact means there were 11.2 deaths per 100,000 people, 1.13 deaths per 100 million miles traveled, and one death every 12 to 15 minutes in the U.S.
Multi-vehicle collisions are a type of car accident that typically involves three or more vehicles. This type of car accident is commonly caused by a "chain reaction," when one car bumps into another, which causes the other to hit the next vehicle. Multi-vehicle collisions are commonly caused by drunk driving, speeding, and distracted driving.
Los Angeles Wrongful Death Attorney for Victims of Fatal Multi-Vehicle Collisions
Losing a loved one from a fatal multi-vehicle collision may leave the victim's family with immense pain and trauma. The grief may affect their decisions in their claim, which is why getting an experienced attorney is vital.
Pursuing a wrongful death claim with an attorney can help the victim's family. Through the wrongful death claim, the victim's family can seek compensation for the damages such as funeral expenses, loss of companionship and income, emotional distress, and pain and suffering that the accident has caused them.
If you recently lost a loved one in a motor vehicle accident, you are familiar with this. You might wonder how you will ever be able to live your everyday life again. It will take time, and there are no quick fixes, but you can learn to cope and rebuild your life. One step that many families find helpful after losing a loved one in a car accident is meeting with a compassionate fatal car accident attorney.

A fatal car accident attorney from Arash Law can handle the legal issues for you. Call Arash Law today at (888) 488-1391 or contact us online to schedule your free no-obligation fatal car accident case review.