An unidentified pedestrian was killed after getting struck by a hit-and-run driver in North Hollywood on Wednesday evening, March 17.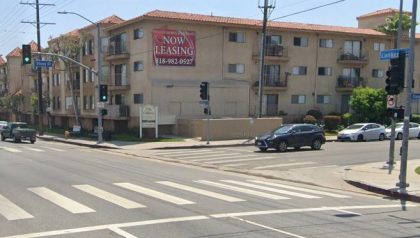 The fatal accident happened at around 6:50 p.m. at Lankershim Boulevard and Stagg Street in North Hollywood. A man in his 40's was reportedly struck by an unspecified vehicle.
The driver that struck him did not stop to render aid and fled the scene.
The victim was pronounced dead at the scene. His identity has not been released at the moment.
Descriptions of the suspect's car and appearance are currently unavailable. Police are actively pursuing the hit-and-run driver.
Local authorities are further investigating the accident.

Fatal Hit-and-Run Pedestrian Accident
Being injured from a pedestrian accident can be quite stressful. Still, it can be especially more difficult when the motorist that struck you doesn't bother to stop, accept responsibility, and provide aid.
California law is clear that if a motorist bumps or hits an unattended parked car, the driver must leave his or her name and contact information for the driver of the damaged vehicle. If someone's property has been damaged, it is illegal to drive away in an attempt to go undetected.
Unfortunately, although existing laws are punishing hit-and-run drivers, in 2016, approximately 2,049 hit-and-run fatalities were reported in the U.S. Annually, around 682,000 hit-and-run accidents occurred in the country. Pedestrians are common victims of hit-and-run accidents.
There are several reasons why hit-and-run drivers flee the scene. They might be intoxicated or impaired by drugs, face legal difficulties, be uninsured, or be illegal aliens.
Los Angeles Wrongful Death Attorney for Victims of Hit-and-Run Pedestrian Accidents
Many victims of hit and run accidents don't realize that even though the at-fault driver disappears, they are still likely to be entitled to compensation for the medical expenses, lost wages, and pain and suffering incurred.
It can be quite stressful and devastating to suddenly lose a loved one due to a fatal pedestrian accident. Pending the official investigation results, the victim's family is entitled to seek compensation for the accident's damages through the wrongful death claim.
With the wrongful death claim, the victims can seek financial compensation for damages like loss of income, funeral expenses, pain and suffering, and emotional distress.
If you or someone you care about has been injured or killed in a hit-and-run accident, you must engage the professional legal services of an experienced California hit-and-run accident attorney today. You must recognize just how complicated these cases are – To schedule a free consultation with the best hit and run lawyer in the area, call Arash Law at (888) 488-1391.