Two people were hurt after a major two-vehicle collision in Santa Clarita Valley on Saturday morning, November 6, 2021.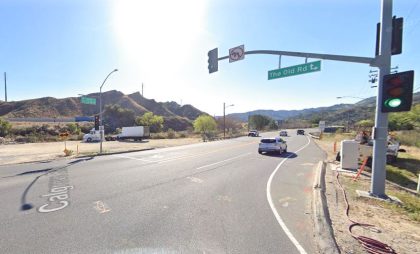 The accident transpired at approximately 11:56 a.m. at Calgrove Boulevard and the Old Road in Santa Clarita Valley.
Two vehicles collided on the roadway for unclear reasons. The circumstances leading up to the crash have not been established.
Due to the severity of the impact, one of the vehicles reportedly caught fire while the other vehicle crashed into a street light.
Two people were injured as a result of the mishap. The two drivers were immediately taken to an area hospital for treatment. The identities of the involved parties have not been disclosed.
Information about the crash is limited at the moment. The case is currently under further investigation.

Two-Vehicle Crash Statistics
The number of car accidents in the United States has steadily increased over time. Automobile accidents claim the lives of nearly 1.25 million people a year. This translates to an average of 3,287 people dying in car accidents every day. An additional 20-50 million people have been injured or become disabled because of car accidents.
Car accidents happen to people all over the world, which is a sad fact. Car accidents are all too common in California, the country's third-largest state. Minor injuries and property damage can result from car accidents when a single person makes a simple mistake.
Eleven percent of all traffic-related deaths occur in California. In 2017 alone, approximately 3,898 people were killed because of car accidents. Since 2013, the number of people who died in automobile accidents has increased by 23.5%. A car accident can happen for several different reasons. Distracted driving, drunk driving, and driver fatigue are the three most common causes of car accidents in the United States.
Los Angeles Car Accident Attorney
A car accident can happen to anyone – and it likely will at some point in time. You may experience a minor fender bender, or someone may run into your car from the back. These are usually not life-threatening scenarios.
A car accident can result in victims being hospitalized for several days. You may have lost time from your job, acquired substantially expensive medical bills, and endured massive pain and suffering.
A terrible car accident can result in debilitating injuries for the driver. People can sustain long-term and permanent injuries from car accidents. If you have recently been injured in a car accident, you should consider hiring a Los Angeles car accident lawyer.
Arash Law's Los Angeles car accident attorneys assist those injured in a car accident in obtaining compensation for their losses. Our firm places a high priority on quickly and efficiently settling our clients' cases. If you have questions about auto accident litigation, our staff is trained to respond promptly and thoroughly to your concerns.
Victims of car, truck, motorcycle, bicycle and pedestrian accidents can rely on our lawyers for various services. For a free consultation with one of our personal injury attorneys, call (888) 488-1391 today.