A two-vehicle collision in Pico-Union led to the death of a 59-year-old male pedestrian on Saturday night, September 25.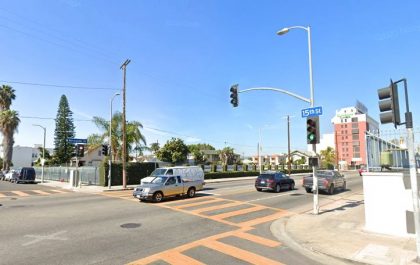 The deadly accident took place at 15th Street and Normandie Avenue in Pico-Union at approximately 11:20 p.m. A vehicle was initially heading southbound on Normandie Avenue when, for unclear reasons, it hit a westbound car on 15th street.
The westbound vehicle then continued and struck two pedestrians standing on the southwest corner of the intersection. The westbound vehicle then proceeded through the intersection, striking two pedestrians standing on the southwest corner.
Unfortunately, one of the pedestrians was fatally injured in the crash. He was pronounced dead at the scene. Meanwhile, the other pedestrian sustained leg injuries and was taken to an area hospital for treatment. Drugs and alcohol were not considered as factors in the accident. Local authorities are further investigating the crash.

Fatal Pedestrian Accident Statistics
There is a higher death toll among pedestrians than among those who are passengers in a closed vehicle. The reason for this is that pedestrians are completely unprotected in the event of an accident. The number of pedestrian deaths in the United States has gone up significantly. From 2007 to 2016, pedestrian deaths climbed by 27%, while traffic-related deaths declined by 14%.
California is a very deadly state for pedestrians. Locals often warn you to be highly cautious when wandering around California highways. California has the nation's most hazardous roads for pedestrians. According to the California Authority, the death rate in California is 25 percent higher than the national average. In 2018, there were 893 pedestrian deaths in California and 14,000 injuries on the state's highways.
Los Angeles County Wrongful Death Attorney for Victims of Fatal Pedestrian Accidents
There are a lot of accidents on the roads in the United States every day. It can be overwhelming if the accident happens to you or your loved one. You may be confused about what you should do next. If a family member or friend was killed in a pedestrian accident, you are not alone in your grieving process.
You can get both legal and emotional support from experienced attorneys at this trying time. After losing a loved one, you may still be heartbroken from your loss, making you subject to insurance companies' exploitation. Consult with an attorney as soon as possible to protect your legal rights.
Our Arash Law attorneys will vigorously defend the rights and interests of their clients while making sure that the negligent party is held accountable. Arash Law's pedestrian accident attorneys have years of expertise in settlement discussions and court hearings, so they know just what to do in the circumstances like these.
We can also contact the insurance company, quantify damages, and utilize legal tactics to demonstrate their value during settlement discussions and legal claims. Call (888) 488-1391 to speak with one of our firm's wrongful death attorneys with no charge.