One person was killed while three others were injured after a traffic pursuit resulted in a multi-vehicle collision in Koreatown on Thursday night, September 2.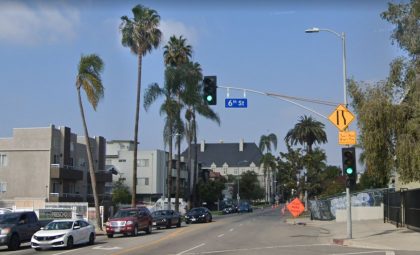 The crash transpired at approximately 11:35 p.m. at West 6th Street and South Wilton Place in Koreatown.
A black Mercedes-Benz was suspected to be carrying two human trafficking suspects. Authorities attempted to apprehend the driver, but the black Mercedes sped off, which prompted a police chase.
The pursuit lasted for two minutes, with the Mercedes crashing into three other vehicles at West 6th Street and South Wilton Place.
The driver of a white Toyota pickup truck was fatally injured in the mishap. He was pronounced dead at the scene. Meanwhile, his passenger sustained unspecified injuries and was taken to an area hospital for treatment.
The drivers of the two other vehicles were critically injured in the crash. They were also taken to an area hospital. The suspects were brought to the hospital before being taken into custody by authorities. They will be booked on multiple charges after getting released from the hospital. An active investigation of the case is currently underway.

Fatal Multi-Vehicle Collision Statistics
Car accidents frequently result in long-term and, in some cases, deadly consequences. To avoid this, all drivers should drive cautiously.
In the U.S., road crashes are the leading cause of death for people aged 1-54. Every year, more than 38,000 people are killed in car accidents on American roads. A further 4.4 million people have been gravely hurt and require medical attention.
Multi-vehicle collisions are just one type of automobile collision. This type of accident occurs when three or more autos collide. A "chain-reaction" crash occurs when one vehicle collides with another, potentially causing it to collide with other cars on the road.
The California Vehicle Code requires a driver to stop at the scene of an accident, even if it only involved property damage, and no one was injured. If a driver strikes you but does not stop, you are the victim of a crime. The driver is open to prosecution.
Los Angeles County Wrongful Death Attorney for Victims of Multi-Vehicle Collision
A multi-vehicle collision is often more complicated compared to accidents involving only two vehicles. With multiple parties involved, it can be more complicated to establish fault and liability.
If you have lost a loved one from a fatal multi-vehicle collision, you have the legal right to pursue a wrongful death claim with the help of an experienced attorney.
Attorneys can help you file a wrongful death claim, negotiate with insurance companies on your behalf, and make sure you get the money you deserve. Attorneys will ensure that you receive compensation for both the economic and non-economic damages you've accrued from the accident, such as medical fees, burial costs, loss of companionship, and pain and suffering.
Medical fees, burial costs, the victim's family's grief and suffering, money the dead would have earned throughout their lifetime, and loss of companionship are all things that attorneys can help with.
Did you lose a loved one due to the negligence of another motorist? Our California car accident lawyers from Arash Law can understand the pain that you are going through. Call Arash Law today at (888) 488-1391 or contact us online to schedule your free no-obligation fatal car accident case review.