Two Los Angeles Police Department officers were hurt after a major multi-vehicle traffic collision in Canoga Park on Friday afternoon, August 6.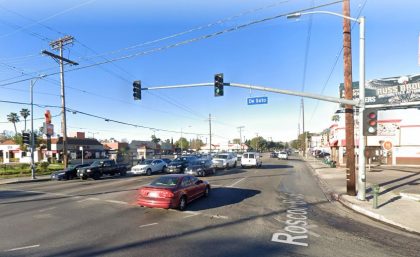 The accident happened at the intersection of Roscoe Boulevard and De Soto Avenue at around 3:20 p.m. Two vehicles were reportedly involved in the collision. The circumstances leading up to the accident have not been disclosed. It's unclear if there are other vehicles involved.
Two LAPD officers were hurt from the mishap. They were immediately taken to an area hospital for treatment. Two other people sustained minor injuries from the mishap and were treated at the scene. They refused to be taken to an area hospital.
Information about the accident is limited at the moment. The identities of the involved parties have not been disclosed. Local authorities are further investigating the cause of the accident.

Two-Vehicle Collision Statistics
Car accidents are becoming a serious issue all over the country in recent years. Tens of thousands of drivers and passengers lose their lives each year due to crashes. According to the United States Department of Transportation's Fatality Analysis Reporting System (FARS), there were 33,654 fatal vehicle crashes in 2018, which caused 36,560 deaths.
These accidents occur more often than you think. According to the National Highway Traffic Administration, a car accident occurs every 60 seconds. This means approximately 5.25 million car accidents occur every year throughout the country.
In 2019, approximately 4.5 million people were injured in the U.S. due to car accidents. The total motor-vehicle injury costs were estimated at a whopping $463.0 billion. These accidents are caused by various reasons, such as distracted driving, drunk driving, and driver over-fatigue. Facing cases like this alone can be quite challenging.
Los Angeles County Personal Injury Attorney for Victims of Two-Vehicle Collisions
Getting injured in a car accident may present several problems to the victim. They may find difficulty in recovering while worrying about their claim, and they may end up feeling more stressed as they can't return to their work during their recovery.
While it's technically possible to represent yourself in a car accident case, it is not the wisest course of action. Self-representation can put you at risk of making mistakes and missing your opportunity to recover for your damages. The best option is to seek the assistance of an experienced attorney.
A wrongful death car accident lawsuit can also help pay for the high medical expenses and other costs incurred due to the crash. It can also help provide financial support for those who have lost income because of an injury or an unforeseen death. Legal action might also help prevent a similar tragedy from happening to other families.
Our California auto accident lawyers have decades of experience, and they know how to stop insurance company tactics that reduce compensation to injury victims. Call (888) 488-1391 or contact us online to schedule your free consultation.