One unidentified person was injured after a two-vehicle traffic collision in Santa Clarita on Thursday afternoon, August 19.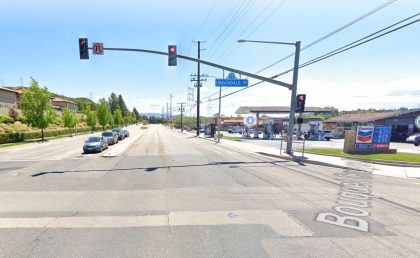 The accident occurred near the intersection of Bouquet Canyon Road and Urbandale Avenue in Santa Clarita at approximately 2:00 p.m.
Two vehicles reportedly collided on the roadway for unclear reasons. The circumstances leading up to the crash have not been established.
At least one person was injured in the mishap. They were taken to an area hospital via ambulance for treatment. The identity and the condition of the injured party have not been disclosed.
Information about the accident is limited at the moment. It's unclear whether drugs or alcohol played a role in the collision. The case is currently under investigation.

Two-Vehicle Crash Statistics
In the United States, a car accident occurs almost every minute. Every year, tens of thousands of drivers and passengers die in car accidents. According to the Fatality Analysis Reporting System (FARS) of the United States Department of Transportation, 33,654 fatal vehicle crashes occurred in 2018, resulting in 36,560 deaths.
In 2019, approximately 4.5 million people were injured in the U.S. due to car accidents. The total motor-vehicle injury costs were estimated at a whopping $463.0 billion. In 2018, 48 over 100,000 people die from injuries on average in California. The majority of car accidents can be attributed to human error. Car accidents are often preventable as long as motorists practice safe driving. Unfortunately, this is not the case all the time.
Paying attention to the road, being competent behind the wheel, and maintaining your vehicle can all help to reduce your chances of getting into a collision. Most "accidents" are caused by someone's carelessness, recklessness, or breaking the law.
Los Angeles County Personal Injury Attorney for Victims of Two-Vehicle Crashes
After a car accident, you shouldn't wait before calling an experienced motor vehicle attorney. In California, victims only have up to two years to file a personal injury claim. If you exceed the deadline for the statute of limitation, you will be precluded from pursuing a claim.
A personal injury claim is designed to help victims receive compensation for both the economic and non-economic damages that the accident has cost them. The other party's insurance company is typically responsible for paying for these damages. Time and again, studies have found that injury victims who have an attorney receive higher settlements than those who do not have a lawyer.
Our attorneys from Arash Law are here to assist you. If you have been injured in a major car accident, don't hesitate to contact us now. We have two decades of experience serving clients all over California, including those in San Francisco, Riverside, San Jose, San Diego, Sacramento, and Sherman Oaks. Call (888) 488-1391 for a FREE Consultation with a personal injury attorney in California.