Eight people were hurt after a multi-vehicle traffic collision in Van Nuys on Monday night, June 21.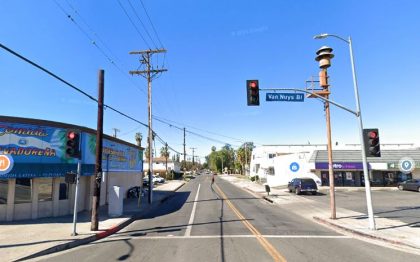 The major collision transpired at approximately 8:20 p.m. in the 7400 block of Van Nuys Boulevard. Four vehicles were involved in the collision. Two of the vehicles were parked at the time of the accident.
Surveillance footage revealed the initial circumstances leading up to the accident. Two vehicles were entering the intersection at high speeds, one of the vehicles swerved and struck a pedestrian. A chain-reaction collision was then triggered. Two parked vehicles were caught in the mishap.
Eight people were injured from the mishap. Six of them were seriously hurt and were taken to an area hospital for treatment. The cause of the accident has not been established, and the identities of the involved parties have not been disclosed. Local authorities are further investigating the case.

Major Multi-Vehicle Collision Statistics
Car accidents in the U.S. happen more often than you think. According to the National Highway Traffic Administration, a car accident occurs every 60 seconds. This means approximately 5.25 million car accidents occur every year throughout the country. On average, there are at least 6 million traffic accidents that occur in the U.S. every year. In 2019 alone, approximately 33,244 fatal motor vehicle crashes occurred, which resulted in 36,096 deaths.
Multi-vehicle collisions are just one type of car accident. It usually involves three or more vehicles. A "chain reaction commonly causes this type of accident," wherein one car will bump into another, which will cause the other vehicle to crash into another one potentially. These accidents commonly occur due to reckless drivers, speeding, drunk drivers, and distracted drivers.
Los Angeles Personal Injury Attorney for Victims of Multi-Vehicle Collisions
Dealing with injuries caused by a multi-vehicle traffic collision can be quite challenging as it can potentially affect all aspects of life, such as family, work, and finances. Speaking with an attorney is often the first step in getting your medical bills paid. Your accident may have left you with high hospital costs, ambulance fees, surgeries, medical equipment, disability, rehabilitation, or live-in care.
If you believe you have grounds to file a claim, retain a local car accident lawyer in California near you who can help you navigate car accident laws. Arash Law has decades of experience throughout California and has secured million-dollar settlements and verdicts for our clients. Our car accident team can investigate your crash, identify the potential defendant(s), and file your claim with the civil court system as quickly as possible. Don't delay – you're just a phone call away from learning your legal options. Call Arash Law today at (888) 488-1391 or contact us online to schedule your free no-obligation fatal car accident case review.