A 6-year-old boy lost his life after getting involved in a deadly pedestrian accident in the Florence-Graham neighborhood on Monday morning, August 2.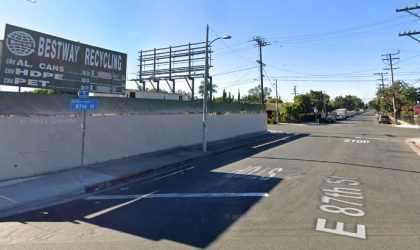 The fatal accident transpired at around noon time in the area of East 87th Street and Firestone Boulevard. The young boy was reportedly walking in the area when a passing vehicle suddenly struck him. The circumstances leading up to the crash have not been established.
The six-year-old boy sustained life-threatening injuries from the accident and was immediately rushed to an area hospital. Unfortunately, while the boy was undergoing treatment, he later succumbed to his injuries and was pronounced dead.
No arrests have been made at the moment. The identities of the involved parties have not been disclosed. The accident is currently under investigation.

Fatal Pedestrian Accident Statistics
In most cases, pedestrian accidents result in serious injuries or even death for those unfortunate enough to be involved in such an accident. Pedestrian accidents are one of the deadliest types of traffic accidents. This is mainly because pedestrians are highly vulnerable to fatal injuries as they do not have any form of protection if an accident happens.
When the weight of the average passenger vehicle is compared to the weight of a pedestrian, this is not a surprising fact. In recent years, pedestrian fatalities have been increasing at an alarming rate throughout the country. As reported by the Governors Highway Safety Association, pedestrian fatalities in the United States have increased by 27 percent between 2007 and 2016, whereas other traffic-related deaths have decreased by 14 percent during the same period.
California is the most dangerous state for pedestrians when compared to the rest of the country. In the state of California, 893 pedestrians were killed, and 14,000 pedestrians were injured on the roads in 2018. Some of the most common causes of pedestrian accidents include careless driving, speeding, and drivers failing to yield to pedestrians on the road.
Wrongful Death Attorney for Victims of Fatal Pedestrian Accidents in Los Angeles County
When something or someone cuts life short, it can leave surviving family members feeling devastated, confused, and at a loss as to what to do. Legal matters may be difficult to think about after a tragedy, but consider pursuing a wrongful death claim for the good of your family's future.
Getting help from an experienced attorney before filing a wrongful death claim is the first step to getting your life back after a tragic accident. The deceased person's surviving spouse, domestic partner, or children may file the wrongful death claim. Through the wrongful death claim, the victim's family can get compensation for the damages such as hospital bills, lost wages, pain and suffering, and funeral expenses that the accident has caused them.
If you are looking for an attorney to represent you in your case, look no further. Our attorneys from Arash Law take the time to get to know our clients and their cases in intimate detail, enabling us to obtain the most favorable settlements or jury verdicts possible for our clients. Call our office at (888) 488-1391 today to discuss your accident with a lawyer for hit-and-run cases.