A 60-year-old woman identified as Gwedonlyn P. was killed after getting struck by a hit-and-run driver in Leimert Park on Monday morning, August 9.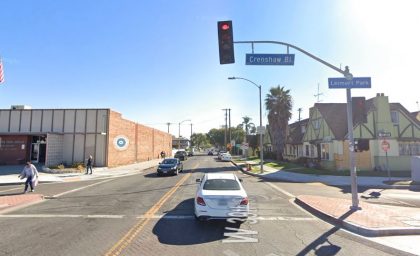 The deadly crash took place at the intersection of 39th Street and Crenshaw Boulevard in Leimert Park at approximately 3:00 a.m. The 60-year-old woman was initially heading southbound on Crenshaw Boulevard when she stopped at the intersection and exited her vehicle. The woman reportedly saw a cat lying on the road and attempted to care for it.
Unfortunately, another driver heading southbound struck the 60-year-old woman. The driver attempted to swerve away from the woman's vehicle but hit the woman in the process. The driver went out of her car to retrieve a piece of her vehicle but did not stop to help the victim.
She drove away from the scene. Authorities were later able to identify the hit-and-run driver as Kateara T. The 60-year-old woman was fatally injured in the crash. She was pronounced dead at the scene.
The suspect was taken into custody for felony hit-and-run but was later released from jail on her recognizance the same day. Her vehicle was confiscated as evidence.

Fatal Hit-and-Run Accident Statistics
A hit-and-run accident is a crime. The California Vehicle Code requires a driver to stop at the scene of an accident, even if it only involved property damage, and no one was injured. If a driver strikes you but does not stop, you are the victim of a crime. The driver is open to prosecution.
Unfortunately, hit-and-run accidents are still rampant across the country. Every sixty minutes, at least one hit-and-run accident occurs somewhere in the U.S.
In 2016, approximately 2,049 hit-and-run fatalities were reported in the U.S. Annually, around 682,000 hit-and-run accidents occurred in the country. Pedestrians are common victims of hit-and-run accidents. There are several reasons why hit-and-run drivers flee the scene. They might be intoxicated or impaired by drugs, face legal difficulties, uninsured, or illegal aliens.
Los Angeles County Wrongful Death Attorney for Victims of Fatal Hit-and-Run Accidents
If you have lost a loved one from a fatal hit-and-run accident, you have the legal right to hold the liable party accountable. The victim's family is encouraged to pursue a wrongful death claim with the assistance of an experienced attorney.
Do not assume that you have no compensation options because the police could not find the person who hit you. Always consult with an experienced hit-and-run accident lawyer to ensure that someone on your side is investigating your legal right to compensation.
Arash Law's experienced personal injury and wrongful death lawyers have extensive expertise and knowledge representing California pedestrians who have been injured or killed in pedestrian accident cases. Our dedicated legal team aims to protect your rights and ensure that you receive the compensation you deserve. Call our office at (888) 488-1391 today to discuss your accident with a lawyer for hit-and-run cases.