A Los Angeles Police Department officer was injured after a motorcycle crash in Glendora on Wednesday morning, September 1st.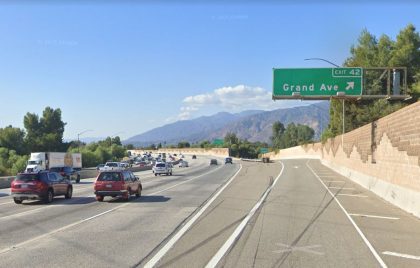 The accident happened on westbound 210 Freeway near Grand Avenue in Glendora at approximately 5:30 a.m.
The LAPD officer was riding his 2015 LAPD-issued BMW motorcycle to work when his motorcycle rear-ended a Ford F-250 work truck that was traveling on the right lane. It's unclear what caused the officer to crash into the work truck.
Due to the severity of the impact, the motorcycle was pushed into the path of another Ford F-250 pickup truck that was traveling in the HOV lane. The motorcycle and the Ford F-250 then crashed into each other.
The LAPD officer was later identified as 42-year-old Jeremy Hollings. He sustained a possible broken leg and was taken to an area hospital for treatment.
Both the truck drivers remained at the scene and willingly cooperated with authorities. They were uninjured in the mishap. Local authorities are actively investigating the possible causes of the accident. Witnesses that can give more information about the accident are urged to call the CHP Baldwin Park Area office at 626-338-1164.

Motorcycle Accident Statistics
Motorcycles are frequently involved in deadly and serious injury collisions. Motorcycle riders are more likely to incur a major injury than passengers in private vehicles. Why are motorcycles so much riskier? Unlike other modes of transportation, they lack safety measures such as a steel frame and an airbag to protect you in the event of a crash.
There were 82,000 motorbike injuries in the United States in 2018. Approximately 80% of reported motorcycle accidents result in injury or death. Motorcycles are involved in 11% of all road accidents in the United States.
Common injuries motorcyclists sustain from an accident are broken bones, skin abrasions, soft tissue injuries, partial paralysis, traumatic brain injury, and spinal cord injury. Helmets minimize the risk of head damage in a motorcycle accident by 69%. Motorcycle riders are less likely to suffer from head, facial, and brain injuries in states with universal helmet regulations.
Los Angeles County Personal Injury Attorney for Victims of Motorcycle Accidents
Motorcycle accidents often cause more damage and stress to the rider instead of the other parties involved. It's because they are more vulnerable to sustaining serious injuries that can cost them expensive medical bills and lost wages.
If you have been injured in a motorcycle accident, you shouldn't delay speaking with an attorney. California's statute of limitations only allows victims to finish their claim within two years since the accident occurred.
If you go beyond the deadline, you may lose your right to seek compensation for the damages the accident has caused you. Arash Law's motorcycle accident attorneys have an amazing track record of success and high right of client satisfaction. We can help you recover the compensation you rightfully deserve. Call (888) 488-1391 for a Free Consultation with a California personal injury attorney in Arash Law.