A 44-year-old man identified as Tricone Raymond was killed after a deadly multi-vehicle collision in Palmdale on Tuesday morning, August 31st.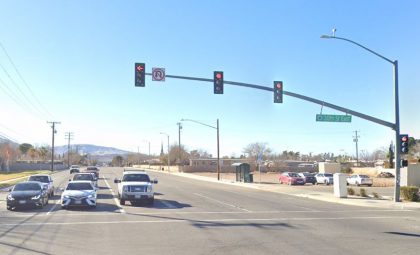 The collision took place on Avenue M east of 30th Street East in Palmdale at approximately 11:11 a.m.
An eastbound 1998 Chevy Suburban was driving in the number two lane of Avenue M when, for unclear reasons, it veered into the number eastbound lane and struck a 2013 Ford Siesta.
Due to the severity of the impact, both of the vehicles swerved into the westbound lanes and were hit by a truck carrying two trailers of hay.
The Chevy Suburban driver sustained fatal injuries in the crash. He was pronounced dead at the scene.
Meanwhile, the Ford driver was moderately injured but is expected to recover. He was taken to an area hospital for treatment.
It's unclear what triggered the crash to occur. Local authorities are further investigating the case. Witnesses that can give more information about the accident are urged to contact the Palmdale Sheriff Station's Traffic Department at 661-272-2400.

Fatal Multi-Vehicle Collision Statistics
The United States has the highest rate of road traffic fatalities of any high-income country, almost 50 percent higher than Western Europe, Canada, Australia, and Japan.
According to the most recent data from the IIHS, 36,096 people were killed in car accidents in 2019. A multi-vehicle collision occurred in this case.
A two-vehicle collision is frequently the start of a multi-vehicle accident. The total accident is characterized as a multi-vehicle or chain-reaction collision if the first collision creates further crashes, culminating in a chain reaction.
Multi-vehicle crashes account for less than 10% of all collisions in a given year. Yet, according to the National Highway Traffic Safety Administration (NHTSA), they result in a disproportionate number of fatalities.
Wrongful Death Attorney for Victims of Fatal Multi-Vehicle Collisions
The insurance company will launch an investigation as soon as possible. They are really serious about their accusations. You should also take yours seriously. This is why speaking with an attorney after an accident is vital.
Attorneys can help you file a wrongful death claim, negotiate with insurance companies on your behalf, and make sure you get the money you deserve. Attorneys can help you recover compensation for the medical fees, burial costs, the victim's family's grief and suffering, money the deceased would have earned throughout their lifetime, and loss of companionship.
Look no further if you are looking for a trusted law firm that you can depend on after a car accident. Our California car accident lawyers from Arash Law are available to help you 24/7. Call Arash Law today at (888) 488-1391 or contact us online to schedule your free no-obligation fatal car accident case review.