One person was hurt after a hit-and-run driver crashed into a gas station in Firestone Boulevard on early Thursday morning, May 27.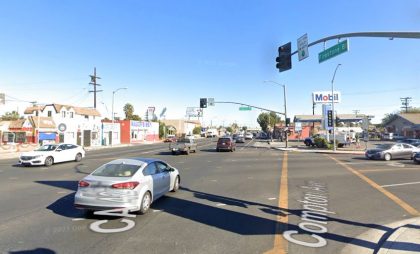 The accident transpired at approximately 3:30 a.m. in the at approximately 3:30 a.m. in the 1400 block of Firestone Boulevard at Compton Avenue.
A two-vehicle collision reportedly led to one of the vehicles crashing into a gas station in the Florence-Firestone area. The driver that crashed into the car station exited his vehicle and ran away from the scene.
One person was hospitalized as a result of the collision. The condition of the victim has not been disclosed.
The suspect's identity and a description of his vehicle are unavailable at the moment. It's unclear what caused the hit-and-run driver to crash into the gas station. Local authorities are further investigating the accident.

Hit-and-Run Car Crash Statistics
It's clear in this case that the liability falls on the driver as he also left the scene after the accident. Unfortunately, hit-and-run cases are not unique. In 2016, approximately 2,049 hit-and-run fatalities were reported in the U.S. Annually, around 682,000 hit-and-run accidents occurred in the country.
Leaving the scene after an accident is a crime in itself. Unfortunately, hit-and-run accidents occur in the U.S. every minute. There are several reasons why hit-and-run drivers flee the scene. They might be intoxicated or impaired by drugs, face legal difficulties, be uninsured, or be illegal aliens.
Car accidents are one of the leading factors of injury deaths in California. According to the National Highway Traffic Safety Administration (NHTSA), over 3,304 recorded fatal car accidents in California in 2017.
Los Angeles County Personal Injury Attorney for Victims of Hit-and-Run Crashes
In California, the fault for a collision depends on which driver negligently caused the accident. The driver who caused the accident is liable to the other involved parties for paying their damages.
The victims will be entitled to seek financial compensation for the medical expenses, lost earnings, emotional trauma, and pain and suffering that the accident has caused them through the personal injury claim.
Making the call to a skilled hit-and-run accident lawyer near me for hit-and-run accidents can help put your mind at ease. If you have a nagging suspicion that someone is to blame for the death or injury of your spouse or family member, contact Arash Law.
We have the resources you need to pursue justice for wrongful death and the experience to ensure that you get fair compensation. Call (888) 488-1391 for a FREE Consultation with a personal injury attorney in California.