One unidentified person was killed after a pedestrian accident in North Hollywood on Wednesday night, April 21.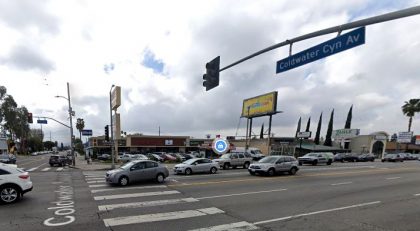 The fatal accident took place near 6200 Coldwater Canyon Avenue between Oxnard Street and Victory Boulevard at around 8:10 p.m.
The unidentified pedestrian was struck by a passing vehicle on the highway under unclear circumstances. The pedestrian was killed as a result of the crash. The identities of the involved parties have not been disclosed.
Additional details regarding the accident are unavailable at the moment. Local authorities are further investigating the case. They will attempt to determine the cause and the liability in the accident.

Fatal Pedestrian Accident Statistics
Pedestrian accidents have been increasingly becoming an issue throughout the United States. Pedestrians currently make up a large percentage of traffic fatalities in the past 33 years.
According to the Governors Highway Safety Association, pedestrian fatalities in the U.S. have increased by 27 percent from 2007-2016, while other traffic-related deaths decreased by 14 percent.
California has one of the highest records of pedestrian accidents in the United States. In 2018 alone, there were 893 pedestrian fatalities while more than 14,000 people were injured due to pedestrian accidents.
Some common reasons pedestrian accidents occur are negligent driving, speeding, and drivers failing to yield to pedestrians. It is vital to seek the help of an experienced attorney when facing cases like this.
Wrongful Death Attorney for Victims of Pedestrian Accidents in Los Angeles County
According to California law, you must file a pedestrian accident lawsuit within two years of the date of the accident. If you miss the deadline, you are precluded from ever pursuing a lawsuit to recover compensation for the injuries you sustained in a pedestrian accident. You will be precluded from seeking compensation in a lawsuit even if your injuries are severe.
A California wrongful death lawsuit must also be brought within two years of the date of the accident. A family member is precluded from bringing a wrongful death lawsuit if it is not filed within that time period.
This is why it is essential to file a wrongful death claim as soon as possible. The victim's family may seek the assistance of an experienced attorney when filing for a claim.
Handling a case on your own can be quite challenging; you are not alone. Our lawyers at Arash law are glad to lend a hand. We will vigorously fight for your rights and ensure that you'll get the compensation that you rightfully deserve. You can visit our offices in Los Angeles, Sacramento, San Francisco, Riverside, Orange County, and San Diego, and you may also contact us at (888) 488-1391 for a FREE Consultation.