A police chase in Hollywood resulted in a multi-vehicle crash seriously injuring one person on Friday evening, May 28.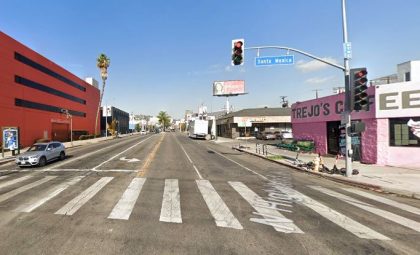 The accident took place at Santa Monica Boulevard and Highland Avenue in Hollywood at around 4:45 p.m. Officers from the Los Angeles Police Department were chasing a blue sedan along Melrose Avenue. The driver of the blue sedan was suspected to be driving while under the influence.
The suspect ran a red light at the intersection of Santa Monica Boulevard and Highland Avenue, where she was hit by two other vehicles. Due to the severity of the impact, the blue sedan started to spin before coming to a rest at the corner of the intersection.
The woman reportedly got out of her car and initially tried to resist but eventually surrendered to authorities. She was taken into custody. One innocent person sustained unspecified injuries from the crash. He/she was taken to an area hospital for treatment. Local authorities are further investigating the accident.

Multi-Vehicle Collision Statistics
With a population of around 40 million people, it's no surprise that California is an accident-prone state. Driving anywhere in California is risky. The majority of collisions, however, are preventable. 94% of all accidents are attributable to human error. Multi-vehicle collisions are commonly caused by drunk driving, speeding, reckless and distracted driving.
Multi-vehicle collisions can result in extreme vehicular damage and death. A car accident is classified as a multi-vehicle collision when three or more vehicles are involved. This type of car accident is commonly caused by a "chain reaction," when one car bumps into another, which causes the other to hit the next vehicle. In this case, the multi-vehicle collision was triggered by a woman trying to avoid authorities because she was suspected of driving while under the influence.
According to the National Highway Traffic Safety Administration (NHTSA), approximately 10,000 people are killed annually due to DUI accidents. According to the Center for Disease Control and Prevention information, around 18% of all fatal motor accidents involve drugs and alcohol. Intoxicated drivers put innocent people — and themselves — at severe and unacceptable risk.
Los Angeles County Personal Injury Attorney for Victims of Multi-Vehicle Collisions
Multi-vehicle collision cases are typically more complicated to deal with compared to car accidents involving just two vehicles. Coping with a multi-vehicle collision case can be quite challenging for the victims as they have to deal with the stress and trauma they got from the accident.
Establishing fault and liability is essential to any car accident. Don't point fingers or accuse the other party of fault, even if you are confident that you aren't the liable party. Leave that aspect of the case for your California motor vehicle accident lawyer and the authorities to take care of.
At Arash Law, we are proud to be aggressive advocates for injured victims. Our law firm does not represent defendants, nor does it serve insurance companies. We use our skills, knowledge, and legal experience to fight for the interests of injured victims. Following an accident, you and your family need the very best California DUI victim lawyer on your side.
We will take your case wherever it needs to go to get you the maximum available financial compensation. Call Arash Law today at (888) 488-1391 or contact us online to schedule your free no-obligation fatal car accident case review.