Three people were killed, including a 14-year-old boy, after a street-racing accident on Central and Florence Avenues on Sunday night, April 11.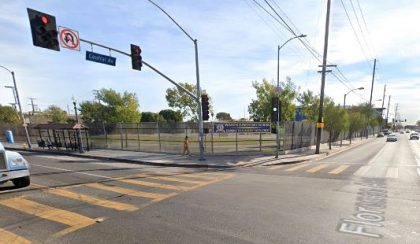 According to the local authorities' initial reports, the collision took place at Central and Florence Avenues at around 10:55 p.m. A 2007 Toyota was reportedly speeding on the highway and later lost control and collided with a Jeep. The Jeep was then pushed forward due to the impact and crashed into another vehicle.
Meanwhile, the Toyota crashed into a building and then a pole, resulting in one of the occupants being ejected. The Jeep occupants were 23-year-old Quindien Holmes, an unidentified man in his 20's, and a 14-year-old boy identified as Myshawn L. They were all sadly pronounced dead at the scene.
Authorities suspect that the Toyota driver may have been involved in a street race. The Toyota driver sustained moderate and was taken to an area hospital for treatment. The driver of the Jeep was also taken to a hospital with minor injuries.
The 20-year-old Toyota driver currently has pending charges in connection with the deadly crash. He will most likely be charged and arrested after recovering in the ICU.

Fatal Street Racing Accident Statistics
In fatal car crashes, speed is often a major contributing factor. Speed increases the severity of injuries that are sustained in any car accident. Thus, even if you survive your injuries, they will be more severe if excessive speed was involved in the collision.
According to the National Highway Traffic Safety Administration, nearly ten thousand victims were killed across the United States in 2018 in auto accidents caused by speeding. In 2017, speeding was a factor in 26 percent of all traffic fatalities. This statistic means that more than one out of every four car accident victims was killed because of speeding. But why is speeding so deadly? The answer is simple physics.
High-speed racing on the road is probably one of the most dangerous and reckless things drivers can do, especially if they're not professional racecar drivers. They could potentially injure others, and it can also lead to fatal consequences.
Los Angeles County Wrongful Death Attorney for Victims of Street-Racing Accidents
You might think that the cost of speeding is simply a ticket to be paid. But speeding causes many different types of financial losses. Insurance companies must pay for property damage. This damage refers to body damage to the vehicles involved in the crash and damage to the road or highway infrastructure (such as signs or guardrails).
Losing a loved one from a deadly speeding-related accident can be quite devastating and stressful. The victim's family is entitled to pursue a wrongful death claim with an experienced attorney's assistance. Through the wrongful death claim, the victim's family can seek financial compensation for the damages such as loss of companionship and income, pain and suffering, funeral expenses, and emotional distress that the fatal accident has caused them.
The experienced auto accident lawyers at Arash Law have decades of experience. We have collected over 200 million dollars for clients across the state. We serve clients in San Francisco, Riverside, San Jose, San Diego, Sacramento, Sherman Oaks, and California. Call (888) 488-1391 or contact us online to schedule your free consultation.
We fight hard to protect your legal rights so that you can focus on making the best recovery possible from your injuries. The sooner you have an experienced car crash attorney fighting on your side, the better protected your legal rights will be.