Two people were killed while three others were injured, including a child, after a fatal wrong-way collision on 110 Freeway on Tuesday morning, March 30.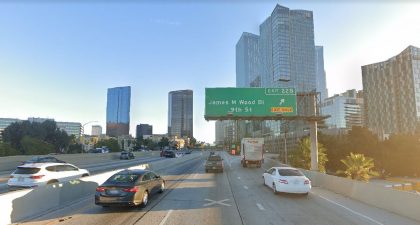 The deadly collision transpired at approximately 2:00 a.m. on the northbound lanes of 110 Freeway near 9th Street. A Lexus SUV was traveling southbound in the northbound lanes for unclear reasons.
The Lexus then collided with a northbound Toyota Corolla that was occupied by two people.
A third vehicle reportedly struck the Toyota after the initial collision. The two occupants of the Toyota Corolla sustained fatal injuries from the accident and were pronounced dead.
The driver of the Lexus SUV sustained major injuries while his two passengers, including a four-year-old boy, suffers from moderate injuries. They were taken to an area hospital for treatment.
Authorities suspect that alcohol may have been a factor in the collision. Local authorities are further investigating the case. Witnesses that can give more information about the accident are urged to contact the CHP Central Area Office at 213-744-2331 or 323-259-3200.

Fatal Wrong-Way Collision Statistics
In an area with one-way streets, it can be easy for any driver to get confused and travel the wrong way. This scenario is a frequent cause of head-on collisions.
Head-on collisions are also one of the deadliest types of traffic collisions as the force is stronger. Head-on collisions frequently involve a wrong-way driver. Every year, approximately 355 people are killed in the U.S. due to wrong-way drivers. With the average number of wrong-way collision deaths at 265, 1.34 fatalities per wrong-way death are calculated.
These accidents are caused by various reasons, such as distracted driving, drunk driving, and driver over-fatigue.
In this case, drunk driving is considered a factor in the deadly collision. The National Highway Traffic Safety Administration (NHTSA) reports that more than 10,000 Americans are killed in DUI crashes every year. Tens of thousands more people suffer severe injuries. Each one of these accidents is its tragedy.
Los Angeles County Wrongful Death Attorney For Victims of Wrong-Way Collisions
Suddenly losing a loved one from a deadly wrong-way collision can be extremely stressful and devastating. The victim's family may be left confused and overwhelmed as they are still coping with the sudden loss.
Seeking the assistance of an experienced fatal car accident attorney is highly encouraged. Our attorneys from Arash Law can handle all the legal issues for you as you recover financially and emotionally from your loss.
Victims are entitled to compensation for their economic losses and their non-economic suffering. Yet, recovering a fair settlement can be deeply challenging. But there's no need to worry. At Arash Law, our car accident lawyers know how to hold defendants and large insurance companies accountable.
Visit our offices in Los Angeles, Sacramento, San Francisco, Riverside, Orange County, and San Diego or call us at (888) 488-1391 for a FREE Consultation with a personal injury attorney in California.