An unidentified 30-year-old man was killed due to a deadly head-on traffic collision on Highway 145 on Saturday afternoon, December 19.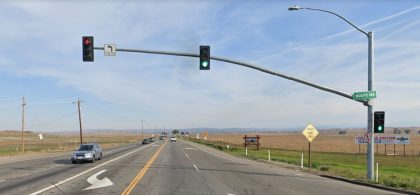 The accident took place on Highway 145 north of Avenue 9 ½ in Madera County at approximately 12:30 p.m. A Chevrolet Cruze was initially driving southbound on the highway when it suddenly crossed over painted double yellow lines into the opposite lane.
The Chevrolet Cruze then collided head-on with a northbound Lexus RX300 that was occupied by the unidentified victim.
The Lexus spun clockwise before coming to a rest on the east shoulder of the road while the Chevrolet veered off to the east side of the road before bursting into flames.
The 30-year-old man occupying the Lexus was pronounced dead at the scene while the Lexus driver and another passenger were rushed to Community Regional Medical Center for treatment. The driver of the Chevrolet Cruze was later identified as 19-year-old Parminder Singh. Singh and his passenger were also taken to Community Regional Medical Center.
Drugs and alcohol were not considered as factors in the accident.
Fatal Head-On Collision Investigation is Underway
The California Highway Patrol is currently investigating the possible factors that may have caused the collision to happen. Witnesses that can provide additional information about the crash are urged to call the CHP at 559-675-1025.
Head-on collisions commonly occur in a traffic light, stop sign, or blind intersections and on freeways. Head-on crashes at intersections happen when drivers disregard traffic laws and signals, such as red lights, stop signs, or yield signs. Freeway head-on collisions usually occur when drivers enter the wrong way on on-ramps or off-ramps, sometimes due to intoxication or drug use.
Head-on collisions mainly occur when drivers are distracted or are experiencing over-fatigue. When facing a case like this, it's essential to have a Madera County wrongful death attorney specializing in head-on collision crash cases to conduct an independent investigation.
Attorneys have the resources to help the victim's family to receive the justice that they deserve. They can re-interview important witnesses, review any related surveillance footage from the crash scene, and obtain phone and texting records of the liable party.
Madera County Wrongful Death Claim for Victims of Fatal Head-On Collisions
Suddenly losing a loved one due to a fatal head-on collision can be overwhelming. While the official investigation is on-going, the victim's family is entitled to pursue a wrongful death claim with their attorney's help.
Attorneys can survive as a helpful legal guide during these difficult times for the grieving family. They will vigorously fight for their client's rights while ensuring that the negligent driver will be held accountable for their suspected crime.

If you believe you have grounds to file a claim, retain a local car accident attorney in California near you who can help you navigate car accident laws. Arash Law has decades of experience throughout California and has secured million-dollar settlements and verdicts for our clients. Our car accident team can investigate your crash, identify the potential defendant(s), and file your claim with the civil court system as quickly as possible. Don't delay – you're just a phone call away from learning your legal options. Call (888) 488-1391 or get in touch online to schedule a free case evaluation.