A tragic accident occurred at O'Farrell and Polk Streets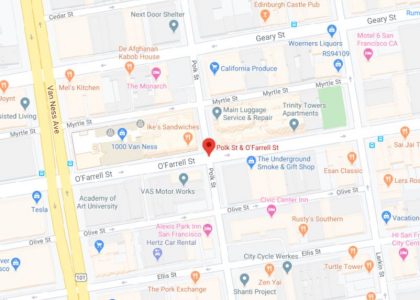 An 80-year-old senior identified as David Chow was tragically killed after being hit by a vehicle last February 14 in San Francisco. 
According to the initial reports, the senior was hit when the vehicle attempted to take a left turn. The incident happened around 8:27 a.m. between O'Farrell and Polk Street. The older man was immediately transported to a local hospital, but unfortunately, he died shortly after. The driver that hit the older man stayed at the scene and cooperated with the authorities. 
According to Walk San Francisco (an advocacy organization), this incident was the first fatality in the city involving a pedestrian in 2020. The authorities are currently investigating the crash. 
Fatal Pedestrian Crash Investigation
As the authorities investigate the case, they will attempt to determine the factors that caused the vehicle to hit the poor victim. 
According to the Governors Highway Safety Association, around 6,227 pedestrians in the U.S. got killed in 2018, which was a 250 increase from the previous year. Pedestrian fatalities in the U.S. have increased tremendously, at around 41% from 2008. 
The sudden spike in pedestrian fatalities can be attributed to the rise in technology. More drivers nowadays are easily distracted by their smartphones, and instead of focusing on the road, they would constantly look at their phones. As a result, most of these negligent drivers will end up failing to yield to pedestrians due to their eyes not being on the road. 
When facing cases like this, it's essential to have an independent probe conducted by an experienced lawyer to better protect the rights of the victim's family. 
When investigating a pedestrian accident case, it's important to have the proper resources to prove the negligence of the suspect successfully. All contributing factors (such as road conditions, signage visibility, and road lighting) must be examined thoroughly. Going through these procedures is vital as it can help the victim's family to receive the justice that they deserve.  Whether pedestrians are crossing in a marked crosswalk or not, pedestrians always possess the "right of way." It is still that driver's responsibility to avoid any incoming pedestrians. 
California Wrongful Death Attorney
With the case currently being investigated, the victim's families are entitled to get a wrongful death claim. A wrongful death claim can enable them to seek compensation for the damages (such as loss of companionship, pain and suffering, and emotional distress) that the incident has caused them. 
During this time of stress and sorrow, the families of the victims can depend on their lawyers as they can stay updated on the official investigation, and vigorously fight for their client's rights while ensuring the suspect will be held accountable for their actions.